3 of 5 new Vande Bharat Express routes allocated to Southern Railways
01 Sep 2023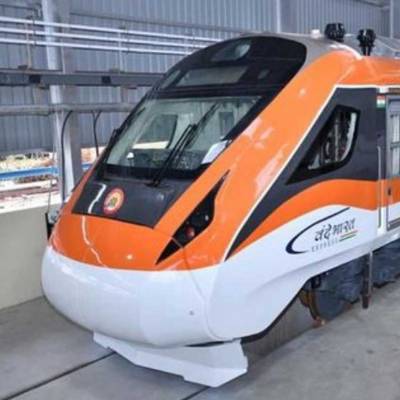 The Vande Bharat Express, renowned as India's fastest train, currently serves a network of 25 routes spanning the entire country. Nonetheless, a recent report has unveiled the Indian Railways' ambitious plan to introduce an additional nine of these high-speed trains on various routes. These new trains are in the process of being prepared by the Integral Coach Factory (ICF) located in Chennai. Among the upcoming deployments, the states of Madhya Pradesh and Rajasthan, both heading into elections, are expected to receive the largest share of these trains. The Ministry of Railways is planning a significant launch event to inaugurate these new additions to the Vande Bharat Express fleet.
New Routes for the Vande Bharat Express:
Based on the latest information from Indian Railways, three of the five newly proposed Vande Bharat Express routes have been allocated to the Southern Railways, although the specific names are yet to be disclosed. The final determination of the Vande Bharat Express deployment locations remains pending. The proposed routes include:
1. Indore – Jaipur Vande Bharat Express
2. Jaipur-Chandigarh Vande Bharat Express
3. Jaipur-Udaipur Vande Bharat Express
4. Puri – Rourkela Vande Bharat Express
5. Patna-Howrah Vande Bharat Express
Overview of Vande Bharat Express Routes:
Currently, there are more than 25 Vande Bharat Express trains operating nationwide, collectively serving 50 routes—25 in the up direction and 25 in the down direction. These trains are distributed across different railway zones as follows:
- Northern Zone: Four Vande Bharat Express trains
- Western Zone: Two Vande Bharat Express trains
- West Central Zone: Two Vande Bharat Express trains
- North Western Zone: Two Vande Bharat Express trains
- Southern Zone: Three Vande Bharat Express trains
- Central Zone: Three Vande Bharat Express trains
- East Coast, South Central, South Eastern, Northeast Frontier, South East Central, Eastern, East Central, South Western, and North Eastern Railway Zones each have one Vande Bharat Express train.
G20 Delegates' Experience on Vande Bharat Trains:
During the G20 Summit, a delegation of media representatives from G20 nations had the opportunity to travel aboard the Gandhinagar-Mumbai Vande Bharat Express. They expressed their satisfaction and delight with their travel experience. Western Railway shared a video highlighting the train as "the epitome of Indian engineering and comfort," as the delegates journeyed from Gandhinagar Capital to Mumbai, the financial hub of India.
Vande Bharat Express Partnership with Hindalco-Metra SpA:
Hindalco Industries has forged a technology partnership with Italy-based Metra SpA for the construction of high-speed aluminium rail coaches within India. Metra SpA, known for its advanced technology in aluminium extrusions for automotive, railway, mechanical, industrial, and architectural applications, will provide cutting-edge technology for manufacturing passenger coaches for the Vande Bharat Express trains. In this collaboration, Hindalco plans to invest Rs 20 billion in the project. Experts suggest that the use of aluminum will allow these indigenously built semi-high-speed Vande Bharat trains to achieve speeds exceeding 200 kmph due to its lightweight nature, resulting in lower maintenance costs, enhanced corrosion resistance, and increased abrasion resistance, among other benefits.
Related Stories