7th India Construction Festival
01 Oct 2021
Long Read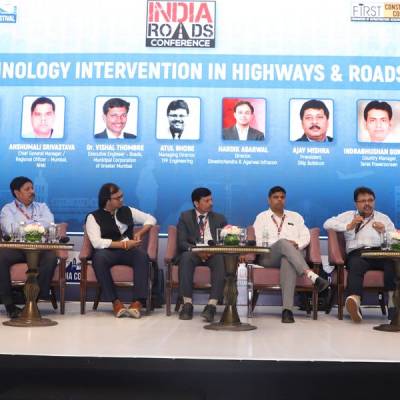 Finance is the lifeline for the construction business. And recent developments have indicated that companies with access to capital markets have better sustenance than those funded by expensive loans with short tenures. With this in mind, the infrastructure think-tank FIRST Construction Council (FCC) organised the 7th India Construction Festival (ICF) on October 22, 2021, in Mumbai.
ICF comprised three subevents: The 11th India Roads Conference, the 9th EQUIPMENT INDIA Awards, and the 19th CONSTRUCTION WORLD Annual Awards.
FY2020-21 was a challenging year for the entire industry owing to the pandemic. The issues were many, such as slowing capex and delayed projects, among others. Despite all these challenges, some companies managed to prevail, posting growth and exhibiting excellence. Many of these companies, from the universe of construction, construction equipment and material handling, were honoured for their outstanding work at ICF.
11th India Roads Conference 2021
Delivering the inaugural address at ICF,
Pratap Padode, Founder and President, FCC,
said, "A hope of overcoming obstacles is seen in the awards of the highway projects, which although fewer than those in FY2020-21 are more than double of what we had in the previous year (2019-20) during the same period (April-September). This has been possible after the Phase 1 of Bharatmala was launched a few years ago to boost highway infrastructure including mapping of shortest route for 12,000 routes carrying 90 per cent of India's freight and commodity-wise survey of freight movement across 600 districts."
He added that the recently launched Gatishakti Yojana also includes a national highway expansion plan as part of the Rs 100 lakh crore project for multimodal connectivity. "The project aims to add around 1,00,000 km of road network by the next four years, including more than 5,500 km of four and six-lane highways across the coastal belt of the country."
Technology: The need of the hour
The roads sector has witnessed a strong growth trajectory as the Government has awarded projects spanning about 50,000 km in the past five years, doubling the pace of construction to about 32 km per day. Though the pandemic had a serious impact on this sector in the past two years, a number of measures have been announced to mitigate the impact of the crisis.
Today, the sector continues to offer significant opportunities as a total capital investment of Rs 20 trillion has been planned for the roads sector during 2020-25 under the National Infrastructure Pipeline (NIP).
The 11th India Roads Conference was kicked off by a panel discussion titled 'Are Indian road contractors, developers and investors ready to adapt global tech advancements for better quality of roads?' The discussion was moderated by Rajashekhar Saha, Director, Capital Projects and Infrastructure, PwC. Speakers included: Anshumali Srivastava, Chief Regional Officer - Mumbai, National Highways Authority of India (NHAI); Dr Vishal Thombre, Executive Engineer - Roads, Municipal Corporation of Greater Mumbai; Atul Bhobe, Managing Director, TPF Engineering; Hardik Agrawal, Director, Dineshchandra R Agarwal Infracon; Ajay Mishra, President, Dilip Buildcon; and Indrabhushan Gokhale, Country Manger, Terex Powerscreen.
Srivastava shared his views on NHAI adopting modern technology to make project execution faster. "In 1999, we had three major phases – detailed project reports (DPRs), execution and operation –and all the three stages were done manually. Now, in 2021, we have gone digital in each phase. At the DPR stage itself, we have adopted GPRS, radars and even drones. The planning or approval stage has shrunk from two years to nine months."
Dr Thombre said, "For the first time in India, we are using mono pile in the Mumbai Coastal Road project. Mono pile helps save time and money. We have gone all digital and are using drones for monitoring and software like building information modelling (BIM) in the project."
"As an industry, we should evolve our management practices in preparation of our project plans with the support of parametric modelling tools like BIM, which allows a complete overview of the project in a manner such that there can be clash detection with utility management," suggested Agarwal.
Mishra said, "For large-scale infrastructure projects, three aspects need to be kept in control: quality, time and cost, and safety of workers. We need a good innovative solution to keep a balance between these three. We need to monitor the role of technology very minutely to increase the cost-efficiency and time and quality management."
"We should be proud of the work done by Indian engineers," remarked Bhobe. "In the next decade or so, I see huge scope for 3D printed bridges and stainless-steel bridges in India. We will see improvements in pavement quality concrete (PQC) works as well."
Gokhale said, "We are working on using technologies like Internet of Things (IoT), which will help owners sit in the office and monitor projects from a longer distance. In our industry, human resource is a major asset that cannot be denied. Along with using new technologies, we should also emphasise on training labour to use these technologies."
Saha concluded, "The industry is aware of what is happening in our country as well as abroad. What it needs is enabling factors under Indian conditions to make them more cost-effective and implemented on a larger scale."
Focus on infra development
The infrastructure sector has become the biggest focus area for the government. India plans to spend $1.4 trillion on infrastructure during 2019-23 for sustainable development. With this in mind, a fireside chat was organised during ICF to unlock the potential of infrastructure stocks in India. This was moderated by
Ashish Puntambekar, Project Designer,
and the speaker was
Dr Chandrakant Pulkundwar, Joint Managing Director, Maharashtra State Road Development Corporation.
According to Puntambekar, "The Gatishakti and NIP have project investments of around Rs 100 lakh crore and they have already incurred a cost overrun of Rs 4.46 lakh crore. It is necessary to have a structure in place that prevent cost overruns."
And Dr Pulkundwar said, "The basic problem in all infrastructure projects is caused by delays in land acquisition. MSRDC has set a benchmark in land acquisition in the Maharashtra Samruddhi Mahamarg project. We faced many challenges as people had apprehensions about leaving their land. We had taken some innovative measures because of which we could remove the fears of farmers during land acquisition."
He added, "The entire land acquisition process started in 2017. The first thing we did was to appoint a media agency to engage in conversations with the local people. We trained the agency first, and then they were put on the job to convince the locals. After that, the media agency appointed communicators who established a bridge between MSRDC and the farmers of the village. The Government came up with the scheme of direct purchase of land and 25 per cent more compensation, which is a big thing as people were offered five times the market value. Another innovative measure was to appoint a joint measurement consultant as measuring land is a huge task in such mega projects. These companies came with many new technologies and trained manpower, which helped us complete the project faster."
Border roads and their importance
Border roads are strategically important as they improve accessibility to areas like the northern and northeast border areas, which have difficult terrain. They also help in the economic development of the remote locations along the border areas. Border Roads Organisation (BRO) develops and maintains road networks in India's border areas and friendly neighbouring countries. This includes infrastructure operations in 19 states and three union territories (including Andaman and Nicobar Islands) and neighbouring countries such as Afghanistan, Bhutan, Myanmar, Tajikistan and Sri Lanka.
During the 11th India Roads Conference, Chief Guest Lt Gen Rajeev Chaudhry, Director General, Border Roads Organisation (BRO), addressed the audience on border roads and their importance towards India's economic development.
In his keynote address, Lt Gen Chaudhary said, "Border roads, particularly those in rural areas, play an important role in poverty alleviation of rural and remote masses. These roads enable transportation of men, material and goods and lead to diversification of agricultural activities, which boost the rural as well as overall economic growth of the state."
He added, "BRO undertakes projects in India and friendly countries. These projects typically include developing roads, bridges and airfields in hostile environments shunned by private enterprises, whether due to security concerns related to hostilities, or because of environmental challenges."
Speaking about connecting the highest motorable pass in the world (Umlingla) and the southernmost tip of India (Lakshmi Bindu) to the mainstream, Lt Gen Chaudhary concluded, "We have brought prosperity to the most remote of villages and enabled them to avail better education, better medical facilities and overall happiness."
Upgrading project operations
The next panel discussion during the India Roads Conference was on 'Upgrading Project Operations, Maintenance and Tolling', wherein speakers elaborated on opportunities for operations and maintenance (O&M), reviving interest in the build-operate-transfer (BOT) space and hybrid annuity mode (HAM) projects.
The panel discussion was moderated by Anand Kulkarni, Director, CRISIL Ratings. Speakers included: Anshumali Srivastava, Chief General Manager/Regional Officer-Mumbai, NHAI; Vikas Sharma, Director, Genesis Infra Project Consultants and Managing Director, Kamachha Construction; Dr Zafar Khan, COO, Highway Concessions; and Vijay Agrawal, Executive Director, Equirus Capital.
"The roads sector has been identified as one of the important sectors by the Government and the same is reflected by the various policies on board," said Kulkarni. "Debottlenecking has been done by the Government. It recently announced the National Monetisation Pipeline (NMP), which hinges critically on the monetisation of assets of the roads sector, wherein the target is to have Rs 1.6 lakh crore of funds generated over four years from the sector. The monetisation of roads sector assets forms around 27 per cent of the overall NMP plan."
He added, "Despite the pandemic, the award of road projects was healthy. Overall highway projects for MoRTH and NHAI were around 11,000 km, of which 4,800 km of roads was from NHAI. We expect awarding to remain pretty much the same this year as well. Execution touched an all-time high of 36 km per day last year. This is likely to go well next year as well. We have seen relaxation of biddings norms by the ministry, which has ensured a number of midsized players coming in to play. The quality of these players will be important going forward. We expect to witness double-digit growth going forward for EPC players."
"We did well last year even though COVID was at its peak," said Srivastava. "Last year, we achieved around 10,300 km of awards in the roads sector. This year, our target is to reach 12,000 km. In the first half of 2021, we have already reached 4,300 km. And I am sure that the balance will be achieved and we will surpass last year's figures. The reason for the low figures in the first half was rains."
On HAM projects, Sharma said, "With the new government and Nitin Gadkari at the helm, the scenario has changed for HAM and BOT projects. I think it will be easy for utility spaces because the clauses have been upgraded in 2016. Only operational issues are there while implementing HAM projects."
Dr Khan said, "As far as construction of roads in HAM are concerned, it is very good. The construction will speed up going forward as money has started to come in. For construction, HAM is a go-to model but for large-scale projects, it will be a hindrance."
"HAM is a very good model because the payment is calculated by NHAI," reasoned Agrawal. "Initially, vendors burnt their hands on the BOT model and they were reluctant to fund HAM projects. Many developers faced challenges in HAM financial closure. HDFC has taken a big lead and created a financial model where developers invest their equity when the project is completed up to a 25-30 per cent stage and the NHAI's money has already been invested in the project. NHAI would have already done the de-risking. Lenders have learnt and developed a financial model for the projects. They are concerned about aggressive bidding. NHAI should reject those type of bids because, ultimately, projects suffer."
He added, "Lenders are looking for upfront equity. Small and medium-sized players will face difficulties because lenders also know that HAM doesn't have a profit of 40-50 per cent. It is around 10-15 per cent, which is good as per industry standards."