India's Fastest Growing Construction Companies Unveiled
01 Oct 2019
Long Read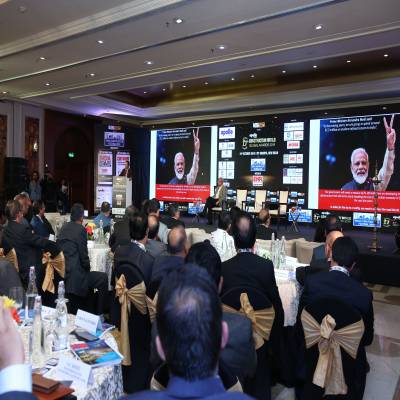 NHAI to continue with HAM bids, as bids brought out in FY19 and FY20 have succeeded: NN Sinha, NHAI Chief
FCC to share an extensive report with NHAI on proposed resolutions to impediments received from stakeholders at the India Construction Festival.
Recognised for their outstanding contribution: Lucknow Metro Chief Kumar Keshav; Navayuga Engineering Company's Managing Director Sridhar Chinta; TIL's Chairman and Managing Director Sumit Mazumder; and Action Construction Equipment' s Chairman & Managing Director Vijay Agarwal
India's Fastest Growing Construction Companies unveiled 
India's Top Challengers 2018-19, for their ability to overcome trying times
FY19 was a challenging time for India Inc. The issues were many, ranging from liquidity crunch, rising bad loans, loan defaults (principal as well as interest), slowing capex and slower automobile growth to delayed or stalled projects, financially inviable projects and an insolvency-like situation for a few large organisations. Despite all the obstacles, uncertainties and challenges, a few entities managed to persevere and prevail, posting growth and exhibiting excellence. And these are the companies, from the universe of construction, contracting, engineering and building materials, many of whom were awarded and honoured for their outstanding work at the India Construction Festival in Delhi.
The India Construction Festival, organised by FIRST Construction Council on October 15 and 16, 2019, comprised four sub-events: The India Roads Conference; CONSTRUCTION WORLD Global Awards; CONSTRUCTION WORLD Leadership Summit; and the EQUIPMENT INDIA Awards. For more details on the conference sessions and speakers, log on to https://indiaconstructionfestival.com/all_speakers.php   
Also, for the second consecutive year, CONSTRUCTION WORLD associated with New York-based Engineering News-Record, popularly known as ENR, the world's oldest and largest circulated engineering magazine, to recognise Top International Design and Contracting Firms. 
Delivering the inaugural address at the India Construction Festival, Pratap Padode, Founder & President, FIRST Construction Council, said, "The India construction industry is not only one of the fastest growing sectors but will continue to invite new investments. And, India will have to explore new turfs to enhance investments in infrastructure. The country needs a strong pipeline to attract leading global engineering firms. Lack of funding continues to be principal impediment in the way of completion of infrastructure projects." While he emphasised on the need to examine ways in which technology can be leveraged to improve the Indian construction industry, Padode went on to add, "FCC will share an extensive report with National Highways Authority of India on proposed resolutions of impediments based on suggestions received from stakeholders at the India Construction Festival." 
The India Roads Conference was inaugurated by the event Guest and Keynote Speaker Nagendra Nath Sinha, Chairman, National Highways Authority of India. In his address to the audience which gave a perfect start to the conference, Sinha said, "The highways sector will contribute significantly to robust infrastructure development. Ministries and departments need to come out of silos and explore inter-modalities to address India's transportation needs. We are looking at financial returns before making investment in roads and highways projects, and at rationalising land requirements in future projects. In order to squeeze more out of highways, the government has decided to do 100 per cent tolling electronically. Also, MoRTH and NHAI will work with eight state governments on 'One Nation, One (RFID) Tag' to enhance toll collection on highways. Also, all HAM bids brought out by NHAI in FY19 and FY 20 have succeeded, and NHAI will continue with the model."
Guest of honour at the CONSTRUCTION WORLD Leadership Summit was Dr Anup Wadhawan, Secretary, Ministry of Commerce & Industry, Government of India. In his talk, Dr Wadhawan emphasised, "The construction sector is critical to various goals of the economy, and there is a need to introspect the reasons behind construction project being stuck. He urged construction companies, associations, media houses to introspect on project delays and misusing investor money, and emphasised on the need for the Indian construction industry to set higher standards to be recognised globally." 
On his part, Steve Jones, Senior Director, Industry Insights Research, Dodge Data & Analytics, said, "The construction industry is at one of its most remarkable points in its history." Elaborating on the various trends that can be adopted, he said, "BIM can help reduce rework, the most toxic element of construction projects, in India; project modelling helps consolidate costs into a single source; laser scanning is an effective way of exploring equipment access; and 3D printing of structures is the future of construction."
What's more, the India Construction Festival was a celebration of victory! More than 60 awards and honours were conferred upon leading Construction Companies, Global Design and Engineering Firms and Building Materials and Equipment Companies. While the assessment criterion for the EQUIPMENT INDIA Awards was based on sales; the CONSTRUCTION WORLD Global Awards follows a statistical model developed by FIRST Construction Council to analyse and present India's Fastest Growing Construction Companies. The model uses financial data of last six year, and companies are categorised under 'Large Category' if the turnover for the current year is greater than Rs 75 billion, under 'Medium Category' if the turnover is over Rs 20 billion but under Rs 75 billion, and under 'Small Category' if the turnover is under Rs 20 billion, but over Rs 2 billion. The analysis for both awards is then presented to an eminent jury (independent jury panels for both award categories) to finalise the set of winners from among the shortlisted companies.
Further, handpicked by the jury for outstanding contribution to their industry, CONSTRUCTION WORLD Global Awards recognised Kumar Keshav, Managing Director, Lucknow Metro Rail Corporation, as the 'CONSTRUCTION WORLD Person of the Year 2019 in the Public Sector', and Chinta Sridhar, Managing Director, Navayuga Engineering Company, as the 'CONSTRUCTION WORLD Person of the Year 2019 in the Private Sector'. The celebration continued through day two of the event, when the EQUIPMENT INDIA Awards recognised Sumit Mazumder, Chairman and Managing Director, TIL, with the 'EQUIPMENT INDIA Lifetime Achievement Award 2019' and Vijay Agarwal, Chairman & Managing Director, Action Construction Equipment, with the  'EQUIPMENT INDIA Person of the Year 2019' title!
FIRST has also created another model for the "Top Challengers" Awards where companies including infrastructure developers, building materials and construction equipment are also considered and selected on the basis of their ability to grow over the previous year despite challenging circumstances. These companies too were recognised at the CONSTRUCTION WORLD Global Awards.
INDIA CONSTRUCTION FESTIVAL was supported by Department of Commerce, Ministry of Commerce and Industry, Government of India; Sagarmala; Skill India; and National Highways Authority of India. Partners for the event included – Presenting Partner: Apollo Tyres; Gold Partners: APCO Infratech, CDE, L&T Construction, Afcons, and Dilip Buildcon; Silver Partners: Turner, Dineshchandra R Agrawal Infracon, Tata Projects, Welspun Enterprises, and SANY; Associate Partners: Shyam Steel, Wirtgen Group, J Kumar Infraprojects, Escorts Construction Equipment, Action Construction Equipment, and Gayatri Projects; Knowledge Partner: Off-Highway Research; Supporting Partners: NAREDCO, Builders Association of India, EEPC India, National Highways Builders Federation, PMA India, Smart Cities Council India, UAE-India Business Council, PEPC; and TV Partner: CNN News 18.   
Winners at the CONSTRUCTION WORLD Global Awards 2019
CW Person of the Year - Public:
Kumar Keshav, Managing Director, Lucknow Metro Rail Corporation 
CW Person of the Year - Private:  
Sridhar Chinta, Managing Director, Navayuga Engineering Company
Largest Construction Contractor:
L&T
Fastest Growing Construction Companies (Large):
1st Tata Projects
2nd Afcons Infrastructure
3rd NCC 
Fastest Growing Construction Companies (Medium):
1st GR Infraprojects
2nd Tie between: APCO Infratech and Dineshchandra R Agrawal Infracon
3rd Ashoka Buildcon
Fastest Growing Construction Companies (Small):
1st Welspun Enterprises 
2nd PSP Projects
Fastest Growing Cement Companies (Medium):
3rd Heidelberg Cement
Fastest Growing Steel Companies (Large):
1st Tie between: Tata Steel and JSW Steel (Largest Steel Company)
2nd SAIL
Fastest Growing Steel Companies (Small):
1st Kirloskar Ferrous
3rd Sunflag Iron
Fastest Growing Tiles, Ceramics & Sanitaryware Companies:
1st Cera Sanitaryware
2nd HSIL
Top Challengers (in no order of ranking)
Bharat Road Network 
Capacit'e Infraprojects 
Electrotherm India 
Gallantt Ispat 
Gayatri Projects 
HIL 
J Kumar Infraprojects 
JMC Projects (India) 
PNC Infratech
PSP Projects 
Rail Vikas Nigam
Welspun Enterprises 
ENR Top International Design Firms honoured:
AECOM: 4th rank
ARUP: 13th rank
Bechtel: 42nd rank
Black & Veatch: 36th rank
Larsen & Toubro: 28th rank
Louis Berger: 98th rank
Shapoorji Pallonji and Company: 178th rank
Tata Consulting Engineers: 127th rank
Tata Projects: 207th rank
ENR Top International Contracting Firms honoured:
AECOM: 70th rank
Afcons Infrastructure: 136th rank
Bechtel: 13th rank
Black & Veatch: 134th rank
Larsen & Toubro: 25th rank
Shanghai Urban Construction (Group) Corp: 155th rank
Shapoorji Pallonji and Company: 62nd rank
Tata Projects: 249th rank
Winners at the EQUIPMENT INDIA Awards 2019
Equipment India Lifetime Achievement Award 2019:
Sumit Mazumder, Chairman & Managing Director, TIL
Equipment India Person of the Year 2019:
Vijay Agarwal, Chairman & Managing Director, Action Construction Equipment
Bestseller in Asphalt Finishers:
Ammann India
Bestseller in Backhoe Loaders:
JCB India
Bestseller in Compaction Equipment:
CASE India
Bestseller in Crawler Dozers:
BEML
Bestseller in Rigid Dump Trucks:
BEML
Bestseller in Crawler Excavators:
Tata Hitachi Construction Machinery Company
Bestseller in Mini Excavators:
Tata Hitachi Construction Machinery Company
Bestseller in Mobile Compressors:
Atlas Copco (India) 
Bestseller in Mobile Cranes:
Action Construction Equipment
Bestseller in Motor Graders:
Caterpillar India
Bestseller in Wheeled Loaders:
Caterpillar India
Bestseller in Skid-steer Loaders:
Doosan Bobcat India
Best Debutant Award:
Escorts Construction Equipment
Best Innovation Award:
JCB India
Related Stories