PM Modi inaugurates 6 mega projects in Uttarakhand
01 Sep 2020
Long Read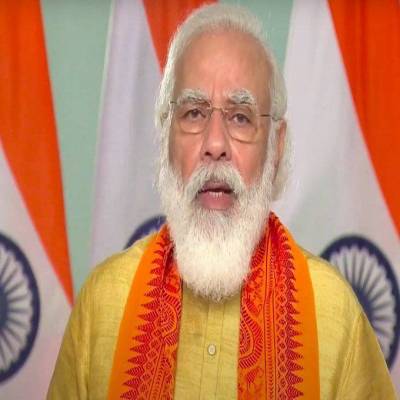 Image courtesy: Orissa Diary
In a country where water bodies are revered and worshipped by its people, our nonchalance and lack of awareness have contributed in making the holy river a health hazard for those who rely on Ganga's water for their daily needs. Ganga is one of the most polluted water bodies in the world. Ganga river basin today is a haven to sewage waste, industrial waste, animals and human remains. 
Keeping in mind the importance the water body holds to the people of the country and the colourful and unique aquatic life it is home to various steps have been taken by different governments from time to time to ameliorate its situation. On those lines and with the same objective the Union Government in 2014 Namami Gange programme with Rs 200 billion budget allocation for conservation, rejuvenation of Ganga. 
To give positive nd necessary nudge to the conservation and rejuvenation efforts, Narendra Modi inaugurated six mega projects in Uttarakhand under the Namnmi Gange scheme. 
These projects are as follows:
the construction of a 68 MLD Sewage Treatment Plant (STP),
the up-gradation of the existing 27 MLD at Jagjeetpur, in Haridwar and
the construction of an 18 MLD STP at Sarai, in Haridwar.
Reportedly, the inauguration of 68 MLD Jagjeetpur project also marks the completion of the first sewerage project taken up on hybrid annuity model of PPP. 
In Rishikesh, a 26 MLD STP at Lakkadghat was inaugurated. The Prime Minister also inaugurated a 5 MLD STP at Chorpani, and two STPs with capacities of 1 MLD and 0.01 MLD at Badrinath.
 The government had a 4 step strategy in place to ensure the fruition of their agenda:

 First: To stop the flow of dirty water into the river by laying a sewage treatment plant network. 
Second: was to ensure that the sewage treatment plants served the purpose for the next 15-20 years
Third: To end open defecation in the 100 big cities and 5000 small towns and villages situated on the banks of the river Ganga
Fourth: To stop pollution in the tributaries of Ganga
The Prime Minister also launched Jal Jeevan Mission`s logo and guidelines.
First of its kind museum was also inaugurated by Prime Minister. The location of Ganga Avalokan Museum is at Chandi ghat in Uttarakhand's Haridwar. The museum will showcase the biodiversity, the culture and the rejuvenation activities. The National Mission for Clean Ganga (NMCG) and the Wildlife Institute of India (WII) are jointly working on the project. 
Related Stories