Placebo Fabtech gets RDSO approval to supply Steel Bridge Girder for Indian Railways
01 Jan 2020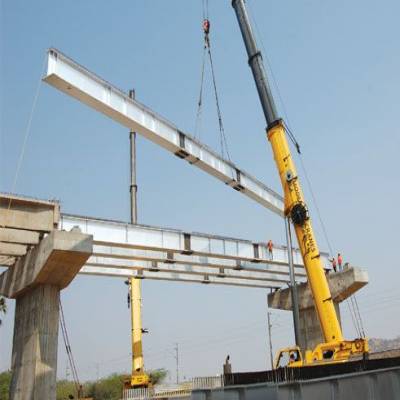 The R&D and technical arm of Indian Railway, Research Designs and Standards Organisation (RDSO) certifies Hyderabad-based Placebo Fabtech for supplying steel bridge girder, making them the third vendor of Indian Railways from Telangana. Placebo Fabtech, formerly known as Placebo Gears & Transmissions, is a leading fabricator of steel structures from plates and rolled sections confirming to global standards and supplying to power plants, steel plants and railway bridges as fabricators partner to Railway approved vendors.
Besides having the ability to carry minimum dead weight, greater efficacy in resisting seismic forces and corrosion, a steel bridge girder fabricator must meet certain requirements to achieve their place in the approved vendors' list of RDSO. Since, safety is paramount, the quality of the raw material, i.e. steel, and the quality of welding of steel bridge girder must be maintained, the parameters met by Placebo Fabtech ensuring high quality of on-time delivery and equipped with state-of-the-art machinery. The company possess great expertise in steel fabrication and erection by their well-trained engineering team, and the products undergo stringent inspection and quality control.
"We ensure pre-bending the flange plate of the welded girder to prevent its distortion; as well as, thoroughly carry out the dimensional inspection of Jigs, fixtures and master plates used in the manufacturing of steel bridge girder," said Chandrasekhar Reddy, Managing Director, Placebo Fabtech.
Indian Railway has set up the norm that the steel girders for bridges must be of a 3,000 MT workload for BRI I/c – and Placebo Fabtech ensures that its product can bear the same workload per annum. RDSO is the sole R&D organisation of Indian Railways and functions as the technical advisor to Railway Board Zonal Railways and their production units. They certify vendors to deliver as per the standards for materials and products especially needed by Indian Railways. For fabrication, Indian Railways have 80 vendors certified by RDSO, in which, two are from Hyderabad, Telangana.
"Placebo Fabtech is the third fabricator from the state to be certified by RDSO, and the management is further expanding its manufacturing capacity to meet the future demands from Indian Railways and other customers."
With this approval, Placebo Fabtech will be listed with all 26 Indian Railway Zones, who will be approaching the company for their fabrication requirements till November 2024. The RDSO certification is for a period of five years, where the audit will be performed again for re-certification. RDSO certifies a vendor in different parameters, which includes the capacity of the facility, machines installed, and quality and standards applied to fabricate the steel structures.


Related Stories