Tunnelling projects in focus at seminar
01 Nov 2020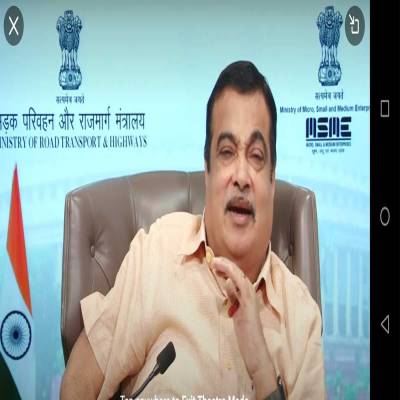 Union Minister of Road Transport and Highways & Micro, Medium and Small Enterprises (MSME), Nitin Gadkari has urged the country's construction sector to devise ways to keep costs of government projects low even while leveraging the latest digitalisation technologies.
Speaking at the webinar 'Technologies & Policy for Digitalisation of Infrastructure: Focus on Tunneling' organised by the industry chamber Associated Chambers of Commerce and Industry of India (ASSOCHAM) on Saturday, the minister said, "These are national assets owned by citizens. How can we, therefore, look at reducing their construction costs?"
Gadkari lauded ASSOCHAM for a seminar on tunneling held earlier this year in New Delhi that had resulted in him sending back the file on the Zoji-la Tunnel for the approval of Rs 110 billion budget for its construction.
"I said, wasn't in agreement with the costing and, hence, was rejecting it. I asked for a proper technical and financial review of the tender by experts for the project to be completed in a cost-effective and time-bound manner. I am delighted to inform you that not only we got good tenders but, thanks to your suggestions, we have managed to save Rs 50 billion on the project," the minister informed.
Speaking about the immense potential for tunneling in India, the minister said that work on interlinking of rivers wouldn't be possible without tunneling. Sharing the latest government data, he said that the total length of tunnels under the National Highways Authority of India (NHAI) was 266.20 km, the length of operational tunnels was 30.71 km, detailed project reports (DPRs) were under preparation for 132 km of new tunnels and the length of tunnels presently being bid out was 105 km.
"If we add 132 and 105, tunneling projects worth Rs 1 trillion are expected to be generated by NHAI alone," he emphasised.
One of the ways to reduce the cost of tunneling in India was replacing diesel in tunneling machines with alternative fuels like ethanol and methanol. The material generated from the digging could be used as a substitute for sand while steel could be replaced by steel fibre.
He further added that, on completion of tunneling projects, agencies must look at ways of realising costs through revenue-generating strategies like the construction of restaurants, logistics parks and hill resorts near construction sites. The minister further said that with the participation of the country's contractors and consultants, the country could easily become the global hub for tunneling expertise and construction. Indian contractors must not be restricted to merely the Indian Subcontinent but must also become adequately competent to serve the rest of the world.
PMCs for Infra Projects
Gadkari also said that the system of hiring independent engineers would get replaced by project management consultants (PMCs) for infrastructure projects.
"I am delighted to inform you that we would be shortly rolling out project management consultancy. The system of independent engineers will be demolished. As a result, a competent consultant will take care of everything from A to Z from land acquisition to utility shifting to environmental and forest clearances to tunnel design to supervision of road construction," he said.
The PMCs will be paid as per their cost as well as rated on their performance.
"The concept of the lowest bidder won't work anyone; 80 per cent weightage will be given based on the past performance and 20 per cent to the financial bid. Similarly, for contractors, 80 per cent weightage will be given based on their financial bid and 20 per cent to their past performance. So, work towards improving the quality of your work and digitalising it," he averred.
Also, referring to his outburst at an NHAI event to inaugurate the agency's new headquarters in New Delhi on October 29, the minister said that it was merely directed at certain elements.
"There are good people in my ministry, there are good people in NHAI and there are a lot of good and capable people in National Highways and Infrastructure Development Corp. (NHIDCL)," he remarked.
Giving the example of the Delhi-Mumbai expressway, the minister asked if work on the Rs 1 trillion project was expected to be completed within three years then why did it take Rs 2.5 billion building two governments, eight chairmen and more than ten years to be completed.
Also speaking at the event, Deepak Sood, Secretary General, ASSOCHAM requested the minister for a framework on the national policy on digitalisation of infrastructure.
Related Stories