Accurate DPR and practical verification are highly essential: Gadkari
01 Jun 2023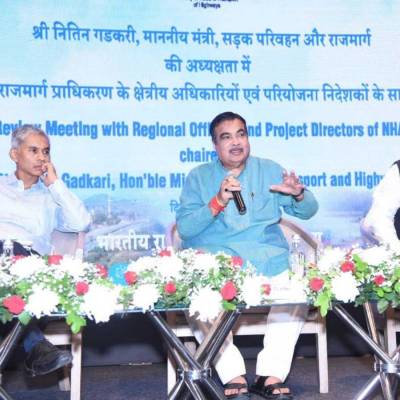 Nitin Gadkari, the Union Minister for Road Transport and Highways, convened a meeting in New Delhi with NHAI officials to discuss key aspects of National Highway development. The meeting focused on enhancing work efficiency, overcoming obstacles, and embracing innovative technology to drive progress in the sector. Present at the meeting were Minister of State for Road Transport & Highways and Civil Aviation, General (Dr.) V.K. Singh (Retd.), Anurag Jain (Secretary, MoRTH), Chairman of NHAI Santosh Kumar Yadav, and senior officials from the Ministry of Road Transport and Highways (MoRTH) and NHAI.
During the meeting, Gadkari launched two mobile applications aimed at improving efficiency and providing ease of commuting on the National Highways. The first application, 'RajmargYatra,' is a citizen-centric mobile app with an integrated complaint redressal system. The second app, 'NHAI One,' facilitates crucial on-site requirements for the execution of National Highway projects.
Furthermore, Gadkari inaugurated NHAI's first-ever Sustainability Report for the fiscal year 2021-22.
This report highlights NHAI's governance structure, operational nature, stakeholder engagement, and environmental and social responsibility initiatives. The minister also unveiled a book that chronicles the history of road development in India, showcasing the evolution of the National Highway network.
Addressing the officials, Gadkari emphasised the importance of accurate preparation and practical verification of the Detailed Project Report (DPR). This meticulous approach aims to minimize project delays, reduce construction costs, promote the use of environmentally sustainable materials, and ensure proper road alignment. Highlighting the need for citizen-centric services, the Minister shared his vision for various aspects of National Highway development. He encouraged NHAI officials to strive for excellence and work towards building a world-class National Highways network in the country.
Related Stories