Andhra Pradesh: Construction begins in the JSW Steel plant
01 Feb 2023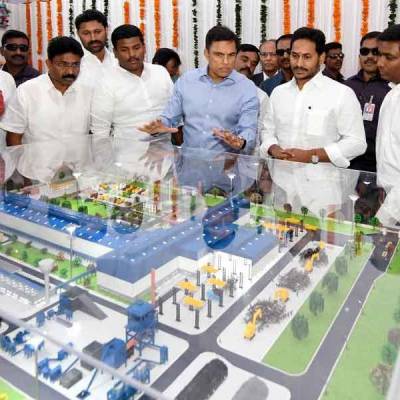 The 88,000 million steel plant being built by JSW Group in Sunnapurallapalli village in YSR Kadapa district has started construction.
In 24 to 30 months, the first phase of the project should be prepared for commercial production. 3,500 acres have been set aside by the state government for the project.
GREEN ENERGY
After the groundbreaking ceremony on Wednesday, JSW group Chairman Sajjan Jindal addressed a crowd and declared that the plant would use green energy and bring wealth to the surrounding neighbourhood.
He gave the group's experience in Ballari, Karnataka, as an example, stating that the company began construction on a facility with a 1.2 million tonnes (mt) capacity in 1995. "The capacity there has now surpassed 13 million tonnes. Over the following three years, it will grow to be the largest steel plant in the world. According to a statement from the Andhra Pradesh government, it would have a 25 mt capacity.
MODEL STEEL PLANT
"As in Ballari, we are beginning with a similar capacity. It would undoubtedly develop along a similar growth path. The steel facility will evolve into a model, he predicted.
Y S Jagan Mohan Reddy, the chief minister of Andhra Pradesh, who attended the groundbreaking event, said the company would tackle the 3-mt capacity project in two stages.
"The first phase, which will be finished in 24 to 30 months, will cost the corporation $33,000 million. The remaining $55 billion would be used in the second phase, he said. "We invested $400 million to buy the land. For the development of fundamental infrastructure, we would spend roughly 7000 million dollars, he stated.
Related Stories