Bailey Bridge in Bharmour, Himachal inaugurated by CM Sukhvinder Sukhu
01 Mar 2023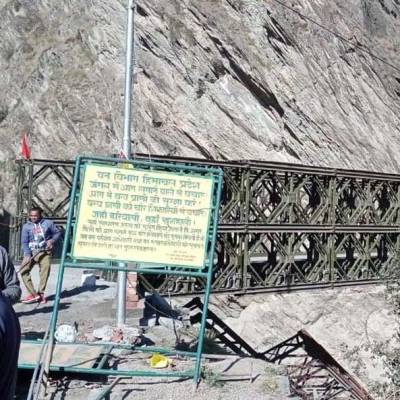 A significant landslide caused the Bailey Bridge in Bharmour to collapse on February 3, 2023.
Sukhvinder Singh Sukhu, the chief minister of Himachal, complimented the PWD engineers' efforts for finishing the bridge's construction in a record amount of time. A new Bailey Bridge at Choli on the Kharamukh-Holi route was virtually inaugurated by Chief Minister, Sukhvinder Singh Sukhu. Around 15,000 residents of 10 gram panchayats in the area will benefit from the 190-ft span bridge, which was built in one and a half months at a cost of Rs 250 million.
On February 3, 2023, the bridge gave way as a result of a significant landslide. The function was virtually attended by former minister Thakur Singh Bharmouri and deputy commissioner DC Rana in Chamba. The public works department's (PWD) engineers' performance in completing the bridge's construction in a record amount of time received commendation from the chief minister. He also expressed his gratitude to Vikramaditya Singh, the public works minister, for his personal interest in expediting the construction of this bridge.
Sukhu emphasised the improved road infrastructure in the state and stated that the current administration was determined to give the people of the State the greatest road connectivity so they wouldn't experience any hardship. He claimed that in order to assure commuter comfort, the public works agency had been directed to prioritise road maintenance and other widening projects. The NHAI has given its general approval for the construction of a four-lane road project from Shimla to Matour with an expense of Rs 100 billion and Rs 120 billion for the four-laning of the Pathankot to Mandi road, which will significantly improve user comfort while also saving them time.