BKT's world-class mining masterpieces at IMME
01 Nov 2022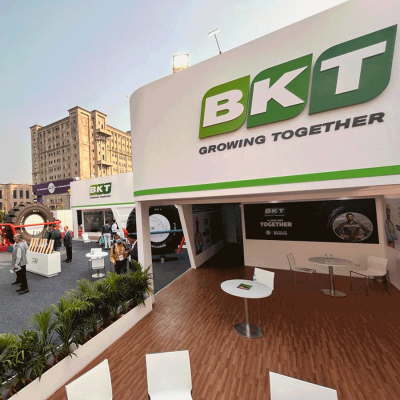 Balkrishna Industries (BKT), the Indian multinational group and global player in the off-highway tyre market, participated in the 16th edition of IMME. The International Mining and Machinery Exhibition was organized by the Confederation of Indian Industry (CII) and was held between the 16th and 19th of November 2022 at Eco Park, Rajarhat in Kolkata, India. BKT was at the exhibition at OD1 booth.
BKT showcased its technologically driven high-quality products for the mining sector. The event's main focus for BKT was the all-steel radial tyre, Giant EARTHMAX SR 468 TL. The special tread design and the compound of this 57-inch tyre was created to limit heat generation and make it cut resistance. Its greater casing resistance makes it an excellent choice for the mining sector.
Another tyre from the EARTHMAX family on the display is the EARTMAX SR 53 TL. It is also an all-steel radial tyre specially designed for ultra-large loaders, dozers, and low-profile dump trucks. The classified deep L-5 treads that makes it ideal for severe rocky conditions consists of a cut-resistant compound. The technology used in this tyre provides it with an extended wear life along with excellent traction and stability.
Commenting on their participation at IMME, Rajiv Poddar, Joint Managing Director, Balkrishna Industries, said, "We are thrilled to have been a part of the 16th edition of the IMME. We have been designing and upgrading our products to meet the demands of the market and curating some robust tyres. We showcased the latest technology at the exhibition, which we are sure will be a huge game-changer for the mining sector. We are also grateful to CII for organising this IMME and elated that we got to exchange ideas with industry leaders and meet with buyers and hear their demands, needs, and concerns which will help us as we continue to upgrade our products and expand our product portfolio."
Related Stories