Cement industry sees record growth amid booming construction demand
01 Mar 2023
Long Read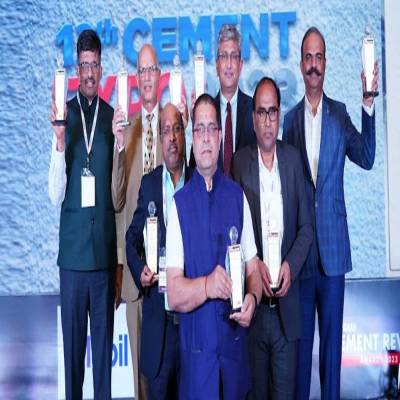 "There's no waste in India; everything is wealth," was the thought-provoking idea that came from Dr Mohapatra, DG, NCCBM, as he shared his views on 'Circular Economy and Sustainability' at the recently concluded 8th Indian Cement Review Conference. The questions he raised and the ideas he presented were enriched with his decades of experience of working on research, development and analysis of alternative raw materials and renewable fuel for the cement industry. He highlighted the struggles in manufacturing blended cement and the opportunities that are available for its use. Finally, he suggested ways to ensure that each manufacturing plant falls within the gamut of a circular economy.
On his part Dr Sriharsha Reddy, Director, IMT Hyderabad, elaborating on 'ESG - Green Financing: A new opportunity for the cement industry', brought to light a number of important issues pertaining to fund procurement through traditional methods and the challenges therein.
Highlighting his views on carbon capture and its benefits for the cement manufacturers, Saurabh Palsania, Executive Director and Group Commercial Head, Dalmia Cement (Bharat), underscored the need to implement innovative technology and most importantly a proper strategy, in order to revolutionise the efforts towards net zero emissions. "Carbon capture, utilisation and storage (CCUS) is an investment-intensive process that also requires a commitment of time and labour. Keeping all these factors in mind, cement companies need to chart out an effective strategy to incorporate CCUS into their eco systems, ensure purity of the captured carbon and channel it towards predetermined activities for its optimum utility," he said.
Pratap Padode, Founder & President, FIRST Construction Council, summarised the challenges faced by the Indian cement industry as well as the growth opportunities it presented for manufacturers in terms of technological innovation and capacity building. He supported his opinions with statistical findings and his in-depth knowledge about the Indian cement and construction industries.
Several discussions from the event highlighted several critical aspects of the cement industry.
ESG - Green Financing: A new opportunity for the cement industry
The cement industry has made progress in reducing energy consumption and power usage, but the challenge now lies in reducing carbon emissions. With breakthrough carbon capture technologies and solar calcination of limestone, the industry can work towards achieving zero CO2 emissions. However, the economic value of carbon capture needs to be explored, with government support through carbon labelling, trading, and green funds. Other solutions such as non-contact grinding and heat recovery from kilns can also be explored to bring emissions to zero. The industry can achieve sustainability and low carbon footprint with digital transformation and well-planned processes. To finance green initiatives, traditional lending institutions such as banks are now considering the economic value of eco-friendly practices. However, long-term loans remain a challenge, and other lending institutions such as venture capitalists and government grants need to be explored.
Demystifying digitalisation and maximising the value chain impact
Digitalisation is crucial in optimising all stages of cement production. Industry 4.0 has provided tools that help determine the desired product quality, which is vital in meeting customer demands. As the importance of ESG continues to grow, digitalisation can help improve processes and reduce environmental impact. Transparency is also key, and a cloud-based platform can facilitate this. Automation at the plant level is vital for both efficiency and safety. However, it is important to remember that profitability is also essential for sustainability. Therefore, implementing digital tools and automation must be done with a focus on achieving profitability without compromising on sustainability.
Innovative supply chain strategies in the cement industry
Innovative supply chain strategies are crucial for the cement industry to remain competitive, with logistics and transportation being at the forefront. Industry experts discussed that the key to cost efficiency lies in innovation in first and last mile connectivity. However, logistics should not be viewed as merely a commercial function, but rather as a technology function. By investing in technology, cement manufacturers can drive the supply chain in a much better way, enabling them to evaluate processes from a revenue angle rather than just cost.
Industry experts also agreed that logistics is the only differentiator a cement company can have today, rather than cost or quality. As such, it is essential for cement manufacturers to explore non-renewable sources of energy to address the energy demand for distribution. Automation is also considered a key element for future logistics solutions. With these innovative strategies in place, the cement industry can increase efficiency and sustainability, which in turn can positively impact the bottom line. On his part, Gaurav Gautam, Head of Sales, Beumer Group, highlighted the innovations in material handling systems that the is undertaking in order to make the movement of finished products smoother along the supply chain. The company specialises in tailor-made intralogistics solutions that help maximise productivity of cement companies.
Truly, the 8th Indian Cement Review Conference brought the industry together in a informative discussion on thought-provoking ideas and suggestions. The presentation weremade by Jayesh Patil, Assistant Manager, Flow Aids, Martin Engineering; Nischal Basavaraj, Regional Head - South, Liugong India; Sasi M Kumar, Business Development Manager - Cement, ExxonMobil; and S Chakravarti, Managing Director, Ecodea Projects and Control.
The conference was held alongside the 13th Cement Expo and Indian Cement Review Awards 2023. Partners supporting the event included: Presenting Partner: ExxonMobil Lubricants; Gold Sponsor: JK Cement and PhillipCapital India; Silver Sponsor: LiuGong India; Associate Sponsor: Humboldt Wedag India; Presentation Partners: Martin Engineering Company India, Beumer India, and Ecodea Projects & Control; Logo Sponsor: Stotz Gears; and Exhibiting Partners: Toshniwal Industries; TIDC (Murugappa Group), and Ringfeder Power Transmission India.
Related Stories