Chennai Metro Phase II: Chetpet-Nungambakkam tunnelling starts July
01 May 2023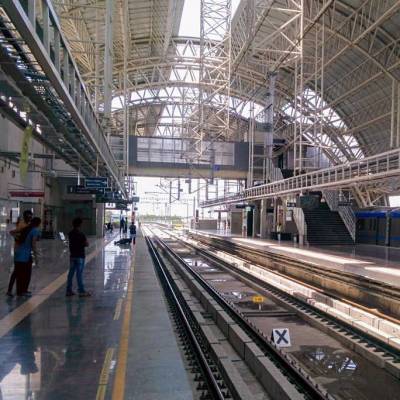 Chennai Metro Rail (CMRL) has relocated a tunnel boring machine (TBM) to the future Chetpet metro station site in preparation for the construction of two twin tunnels in the central areas of the city.
It has been reported that tunnelling has already commenced in Madhavaram and Greenways Road, and the expansion from Chetpet to Nungambakkam, covering a distance of approximately 12 kilometres, may also commence in July.
The TBM will be responsible for constructing one of the twin tunnels at the Sterling Road junction, which spans nearly 850 metres. This section is just a portion of the corridor-3, which extends from Madhavaram Milk Colony to Siruseri Sipcot, covering a total distance of 45.8 km.
The CMRL's phase-2 expansion aims to establish a more extensive network encompassing an area of 118.1 km and 128 stations. The completion of this project is anticipated to occur in stages between 2026 and 2028. As a result of these expansions, it is expected that the ridership will gradually increase to approximately four million passengers per day by 2026.
The excavation of the shaft at the Chetpet metro site has been finalised, and a base slab has already been constructed. The mobilisation of TBM components is currently in progress, and the machine will be ready for assembly in June, followed by its descent into the shaft.
This will be completed before the end of June. By July, we may commence tunnelling. The shaft will also serve as part of the Sterling Road junction metro station.
The tunnels will be constructed at a depth of 22 metres in Chetpet, gradually reducing to 15 metres as they pass through the Sterling Road junction. The section between Chetpet metro and Sterling Road junction metro is also included in the contract for tunnel construction from Kellys to Taramani, covering a distance of 12 km along corridor-3.
A total of eight TBMs will be deployed for the construction of tunnels in this section.
Also read:
Agra Metro's TBM re-launched for Taj Mahal Station, marking a new milestone
RRTS to have multi-modal integration at 9 stations


Related Stories