Chennai Metro's Phase II to Revolutionize OMR Transport
01 Jun 2023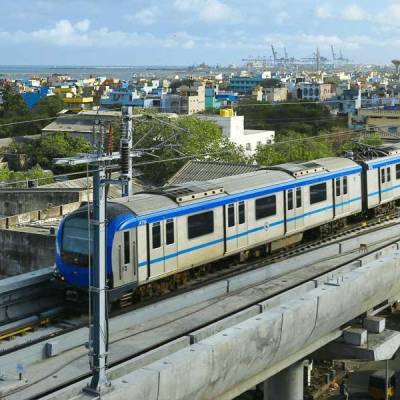 Chennai Metro Rail (CMRL) is poised to revolutionise public transportation along Old Mahabalipuram Road (OMR) with the Phase II project. By 2027, CMRL aims to launch train services from Nehru Nagar in Perungudi to Siruseri, covering a vital 20-kilometre stretch.
The Phase II project, with a total length of 116 kilometres and a cost of Rs 61,843 crore, encompasses corridor 3 (Madhavaram to SIPCOT), which includes the Nehru Nagar to Siruseri section. This proposed corridor will feature multiple stations, such as Nehru Nagar, Kandhanchavadi, Perungudi, Thoraipakkam, Mettukuppam, PTC Colony, Okkiyampet, Karapakkam, Okkiyam Thoraipakkam, Sholinganallur, Sholinganallur Lake I Metro, Sholinganallur Lake II Metro, Semmancheri I Metro, Semmencheri II Metro, Gandhi Nagar, Navalur, Siruseri, Siruseri SIPCOT I Metro, and Siruseri SIPCOT II Metro.
CMRL officials state that the Madhavaram to Taramani stretch will be underground, while the remaining section up to the last station in Siruseri will be elevated. The tender for this section was divided into two parts - Nehru Nagar to Sholinganallur and Sholinganallur to SIPCOT - with the contracts awarded last year. Construction work is currently underway at various locations along OMR, with an estimated completion date in early 2027.
Commuters travelling from OMR to different parts of the city endure long travel times during peak hours. Recognising this, CMRL prioritised the Nehru Nagar to Siruseri stretch in the Phase II project. While commuters expected this section to be one of the first to be operational due to its significant benefits, they may have to wait another four years before it becomes accessible.
Sources suggest that meeting the given timeframe for completing the stretch may be challenging as work has only recently gained momentum. Additionally, the establishment of a small depot with 8-10 stabling lines is necessary to facilitate train maintenance and basic repairs before opening the stretch to commuters.
The successful implementation of Chennai Metro Rail's Phase II project will alleviate the commuting difficulties faced by thousands of residents and workers along OMR. With improved connectivity, reduced travel time, and enhanced convenience, the new metro line promises to transform public transportation and contribute to the sustainable development of Chennai.
Also Read
Accurate DPR and practical verification are highly essential: Gadkari
Indian imports of Russian coking coal poised to double soon

Related Stories