CM Manohar Khattar laid the foundation stone of Delhi Parallel Canal
01 Apr 2023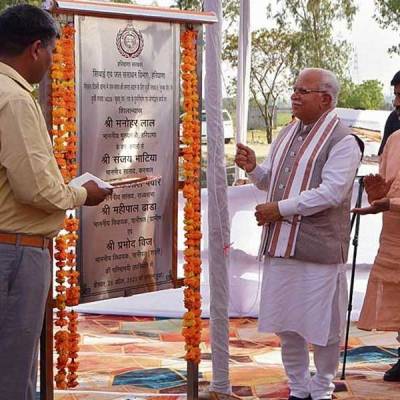 In this village of Singhpura, Chief Minister Manohar Lal Khattar laid the cornerstone for the expansion and renovation project of the Delhi Parallel canal.
The project is expected to cost Rs 3.04 billion.
Speaking to the gathering, Khattar claimed that enlarging the Delhi Parallel Canal would benefit thousands of farmers in the South Haryana communities of Israna, Panipat Rural, and Samalkha Assembly. According to him, the state has over 80 lakh acres of arable land, of which 30 lakh are irrigated by tube wells. The remaining areas are watered by canals and other water sources.
The CM added that the government has also planned on diverting Yamuna water to low-lying areas for the management of a significant amount of water. He stated that it was a massive undertaking that would ensure there was never a shortage of potable water from the Hathnikund barrage in Yamunanagar to Gurugram.
We received very little water from other states because the state's water sources are very scarce. The CM continued, "The SC's decision has also gone in our favour, and we are working to get our fair share of the SYL water." The CM stated that as a result of the government's decision to provide an incentive of Rs 7,000/acre to farmers who choose not to plant paddy in order to conserve water, the state's paddy sowing was reduced by 1.5 lakh acres in the most recent growing season.
See also:
India plans to invest 350 billion by 2047 to build a network of canals
Irrigation backlog in Vidarbha


Related Stories