Colaba-Bandra-Seepz metro line trials to begin soon
01 May 2023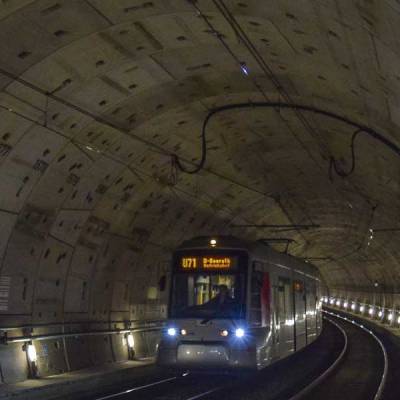 Phase 1 of India's longest underground Metro project between Colaba, Bandra Kurla Complex (BKC), and Aarey is expected to open for commuters at any time by December or within three months after that. The notable Metro 3 project is approaching an important phase as authorities work to complete the first phase of the project by October for trial runs.
Mumbai Metro is one of the most prestigious projects of the Mumbai Metro Rail Corporation (MMRC), as it is the only metro corridor in Mumbai that connects the island city's suburbs. The corridor will also link the international and domestic terminals of the Mumbai airport and provide connectivity to the important financial district of BKC. Work on the project started in 2016-end, however, it was under planning since 2011.
Ashwini Bhide, MMRC's Managing Director, said that they are hoping that Phase I would be commissioned this year as all work is on track. The target to commission Phase I is December 2023, but the date could be in March 2024 as well.
The project must be completed by the end of October in order for service trials to begin. Following that, the route can be inspected starting in December by the Commissioner of Metro Rail Safety (CMRS).
The entire corridor's 33 km length (both phases combined) is quite long for an underground corridor, and since some stations in phase II will take longer to complete than others, the metro line's opening will be delayed.
Nine stations make up Phase I (BKC-Aarey), which serves the airport, BKC, and major employment centres in Mumbai like MIDC and Seepz in Andheri (East). On the 12 km section, 110 services with a 25-minute travel time are planned by MMRC.
The project, which was originally scheduled to be completed by 2021, saw an almost 30-month delay due to multiple issues.
Explaining the difficulties in construction work, Bhide said that the Metro 3 construction is not easy compared to a city like Delhi, where there is a lot of space and you could adopt certain construction methodologies which are less time-consuming. Here, there are 26 stations below the road, where lanes had to be blocked for traffic and temporary decks laid, to open some lanes for vehicles. These decks are now being removed, and the roads are being reinstated.
Also Read
Railways to start hydrogen train trials in current financial year
Underground metro line to seek nod for driverless operations


Related Stories