Construction Technology Summit: A massive success
01 Jul 2022
Long Read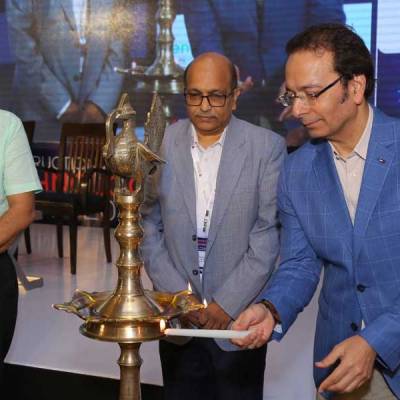 The CONSTRUCTION TECHNOLOGY SUMMIT, organised by CONSTRUCTION WORLD (CW) in Delhi in July, witnessed potent discussions on the adoption of technology in various aspects of construction. The event was attended by architects, technology experts, contractors, engineers and government dignitaries.
The summit was graced by Guest of Honour, Amber Dubey, Joint Secretary. Ministry of Civil Aviation, Government of India, who engaged the audience in a discussion on the adoption of drones. "There is no need to incentivise the usage of drones; their advantages speak for themselves," he pointed out. "The only area the Government is incentivising their usage is on the agricultural side through PLI to anybody who makes agricultural drones. On the usage end, we give 50-100 per cent subsidy depending on the entity." He added, "When the Drone Rules were drafted, the purpose was to keep it simple. They come under the Aircraft Act, 1937. The Drone Rules 2021, which were released in August last year, is just a 11-page document written in simple language. It took us a year and a half of brutal conversations behind the closed doors of the Government with industry leaders. We came up with ideas and simplifications in collaboration with the industry."
In his welcome address, Pratap Padode, Editor-in-Chief, CW, said, "The construction industry has seen tremendous change where digital payments are preferred, projects need to be completed on time or there are heavy penalties and a project's profitability depends upon its timely completion. The Ministry of Statistics and Project Implementation (MoSPI) monitors projects worth Rs 1.5 billion and above. Of 1,579 such projects, 425 reported cost overruns, and 664 reported time overruns. So, while the infrastructure sector is buzzing, we have always been delayed because of a host of reasons. The scale of the projects is becoming too critical to ignore." Highlighting the importance of technology in such cases, he said, "Technologies need to be taken seriously as they not only offer the benefits of precision and low wastage but also of higher productivity, integration and pre-emptive planning. The complexity of projects has propelled the adoption of BIM, 3D modelling, digital twin and artificial intelligence (AI). In parallel, the Government has enabled policies that foster the use of geospatial and drone technologies. Similarly, construction equipment with enhanced features now appears more within reach."
Adding to the positive sentiments in a packed room, Sudhendu J Sinha, Adviser - Technology, NITI Aayog, highlighted the Government's plans for adopting modern technology for speeding up Gati Shakti in his keynote address. "Gati Shakti is going to be a gamechanger. It is going to be a revolutionising breakthrough for project administration. The principal aim of Gati Shakti is to raise productivity and bring about economic development. We can bring this about by creating a world-class logistics infrastructure."
In his inaugural address, Kasturi Srinivas, Regional Director, Mobility, Bentley Systems, highlighted the need to adapt to technology intervention, and during the day Kalyan Vaidyanathan, Director, Business Development, Bentley Systems, focused on accelerating project delivery through digitalisation in his presentation.
The power-packed event included three panel discussions, two fireside chats and four sessions focusing on innovative new technologies. Read on for key takeaways from the discussions:
Panel discussion 1: 'Construction Technology: Reshaping the industry and preparing the workforce for a better tomorrow'
Moderated by Yash Pratap Singh, Partner, KPMG, the panel included Vikaas Ahluwalia, Director, Ahluwalia Contractors; TR Rao, Wholetime Director, PNC Infratech; Smit Shah, President, Drone Federation of India; Parveen Sharma, The BIM Engineers; Bhawah Samyal, Senior Architect (BIM Management) AECOM; and Awanish Shukla, Senior Manager – Business Strategy, DLF.
Key takeaways:

A large section of construction projects involves the Government in some way or another, where the adoption of technology has picked up quickly. Site monitoring is now done with drones. In the private sector, on the other hand, acceptance has been a little slow owing to paucity of availability and knowhow.
The industry sometimes overlooks the fact that technology is a tool. While adoption is picking up in the actual construction phase, adoption during planning and monitoring is lacking.
When it comes to skilled labour, it's not about the dearth of it, it's just that the resources available are not properly utilised. Indians are adopting technologies for construction; they're just doing it for the world.
The next generation of the industry are the flag bearers of new innovation.
Technology is not replacing talent' it's just facilitating talent. The future belongs to this new generation.
The industry also needs to keep in mind that it's not always about disrupting or bringing in a revolution – starting small, evolving and adapting works best.
If a project wants to use digital methods, it needs to start with an integrated project approach with a clear digital roadmap. Technologies cannot be implemented haphazardly.
Panel discussion 2: 'Vertical Construction: Technology modernising the real-estate industry'
Moderated by Rajiv Nehru, In market Lead Asiapac, RICS, the eminent panellists included Ashish Rakheja, Managing Partner, AEON Integrated Building Design Consultant; Sandeep Roy, Sr VP and Head of Design & Engineering, DLF; Siddharth Dey, Head - Ops (Buildings & Public Spaces) Civil SBU, KEC International; and Virendra Gupta, Executive Director, Project Management, CBRE India. The panellists discussed the challenges in vertical construction.
Key takeaways:

Today, the industry has no choice but to go vertical with tall buildings owing to lack of space in large cities. For every 10 storeys, beyond 12 floors, the cost of construction rises by 15-20 per cent. This affordability is only possible when the land cost is high and the construction cost can be managed within the overall project cost.
There are enormous risks when building a high rise. Even at the design stage, considerations need to be made for safety and efficient transportation.
The bigger challenges present themselves at the execution and operations stage. Especially in terms of fire safety and evacuation, smooth operations become critical.
When going sustainable, high rises need innovative solutions, like incorporating solar panels into the facade.
The industry is poised for a technological intervention; the laws and the focus on execution and operation need to be broadened.
PANEL 3: 'Roads to Digital Highways: Vision and plan for use of technology'
Moderated by Atul Bhobe, Managing Director, TPF Engineering, the panellists conversed on transforming the country's roads using technology, given the ambitious goal of the Government to construct 50 km of road per day. The expert panel included RK Pandey, Member-Projects, NHAI; Ajay Hans, Meaning Director and CEO, Welspun Enterprises; Hardik Agrawal, Director, Dineshchandra R Agrawal Infracon; and Satish Pandey, Principal Scientist, CRRI – CSRI.
Key takeaways:

When infrastructure projects are awarded by the Government to a private party, they are free to come in and use whatever technology they want to achieve the required performance.
Innovative products do bring their own set of apprehensions that can only be overcome with use. It's not just about use today; it's about use 15 years down the road.
Innovation in construction, engineering, design and materials all has to go hand in hand. One cannot progress without the other.
Technology that can reduce dependency on natural resources and is sustainable in the long term should be a predominant factor in choosing.
Fireside chat 1: 'The Metro Story: Use of pathbreaking technology'
Moderated by Puneet Narang, Partner, KPMG, the fireside chat included key players from among the most prominent metro rails: Keshav Kumar, Former Managing Director, UP Metro Rail Corporation and Naresh Gurbani, Executive Director - Projects, Maharashtra Metro Rail Corporation (Maha Metro). They conversed on the best technology practices that enabled efficient and timely completion of these metros.
Key takeaways:

With Lucknow and Kanpur Metros, a key learning was quick onboarding and being deeply involved in every step of the way.
The Lucknow and Kanpur Metros made extensive use of prefab in civil construction.
The two metros were finished on time owing to integral collaboration between the governing body and the structural engineers and consultants as well as proactiveness in adopting new technologies.
Standardisation of design can solve a lot of industry problems.
The Nagpur Metro has made innovations by integrating a three-layered transportation corridor that has an existing highway, a flyover highway and a metro line on top.
The rate of returns on technology is very high, despite the initial cost of investment.
If the supply chain can be standardised and backward integration can be done at the design stage to mass-produce the components, it will hasten execution and monitoring.
While standardising is an important component, the skilled manpower necessary for operation cannot be overlooked. The training around crane operation, mechanised erection procedures, etc, becomes equally important.
Fireside chat 2: 'The Rail Tale: Innovation and digitalisation transforming Indian Railways'
Moderated by Rajiv Nehru, In market Lead Asiapac, RICS, the chat revolved around the design strategies that can be adopted to upgrade India's extensive railway network. The eminent panel included Kulvinder Rayat CEng FICE, Associate Director, Arup, and Kim Quazi, Director, Arup.
Key takeaways:

India is fortunate that it has such a long-established robust railway system though the infrastructure is quite aged. While designing, the focus is on creating an experience and ensuring smooth people flow.
Part of developing design for railways is creating a system. So, there is a standardised system but the components within that station can be contextualised to the city.
When a railway station is rolled out on PPP basis, private companies focus on revenue and profitability and retail is at the centre of it. Thus, entire stations are designed around making people stay on the concourse.
A series of 'Quick Pick' presentations highlighted alternate construction techniques and materials:
1. Ar Amin Nayyar, CEO, ANA Design Studio, focused on the 'Dry Construction Technique'.
2. Sergio Guerra, Director & CEO, FortCem, spoke about 'Sustainable Cementitious Material Technology'.
3. Satish Pandey, Principal Scientist, CRRI – CSRI, addressed the 'Use of 100% Steel Slag Aggregate for Roads'.
4. Kulvinder Rayat, CEng FICE, Associate Director, Arup, discussed how to 'Modularise the Indian Railways'.

The event was supported by: Digitalisation Partner: Bentley Systems; Associate Partner: LivSyst; Exhibit Partner: Infurnia Technologies; and Association Partners: BIM Association of India and Drone Federation of India.

Related Stories