Delhi Metro Constructs Longest Phase-IV Tunnel
01 Jun 2023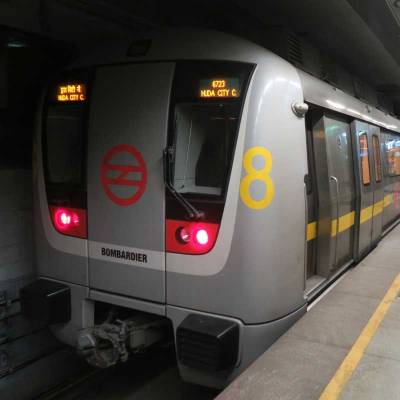 Delhi Metro Rail Corporation (DMRC) is constructing a 2.67 km-long tunnel from Air Force Station Tughlaqabad to Maa Anandmayee Marg station on the Silver Line, marking it as the longest tunnelling drive in the ongoing Phase-IV project. According to DMRC officials, the internal diameter of the tunnel will be 5,800mm. The tunnel boring machine (TBM) will measure 103.9 metres in length.
On Monday, DMRC commenced the initial tunnelling work using the tunnel boring machine 'AMRIT' on the Silver Line at IAF Station Tughlaqabad. Vikas Kumar, MD of DMRC, along with other senior officials, were present at the site.
"A TBM is a machine used to excavate tunnels with a circular cross-section through various soil and rock layers. They can bore through anything from hard rock to sand. TBMs have revolutionised tunnel construction worldwide, allowing tunnels to be built without disrupting surface structures," explained a Metro official.
Two more tunnelling drives are already underway on the Aerocity-Tughlaqabad corridor, spanning from Chhatarpur to Kishangarh, covering a total length of 1.27km. DMRC is constructing approximately 28km of new underground corridors as part of Phase IV, which includes the installation of 65km of new lines across three different corridors.
So far, DMRC has completed 2.2km of underground tunnels for up and down movement between Janakpuri West and Krishna Park Extension on the Janakpuri West-RK Ashram Marg corridor. In the upcoming months, tunnelling drives will commence on multiple stretches, including Derawal Nagar-Pulbangash and Nabi Karim-Pulbangash (Janakpuri West-RK Ashram Marg).
The Aerocity-Tughlaqabad corridor will consist of 19km of underground sections, while the Janakpuri West-RK Ashram Marg corridor will have around 9km of underground portions. The Majlis Park-Maujpur section will not include any underground segments. The underground work, along with the remaining corridors, is projected to be completed by the end of 2025.
Also Read
Tata Realty and Tabreed Announce First Alliance for CaaS Transaction
Focus on smaller refineries to overcome land acquisition challenges
Related Stories