Excon 2021 successfully made a post-COVID entry at BIEC, Bengaluru
01 Jun 2022
Long Read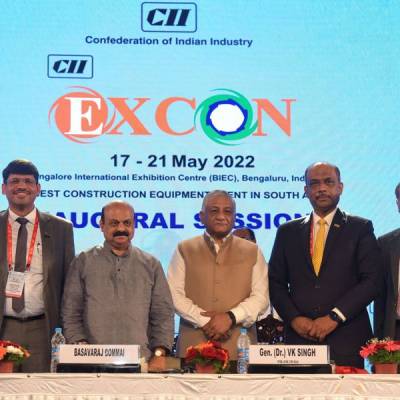 Excon 2021 spread across 300,000 sq m and attracted over 800 exhibitors from India and abroad including countries such as Belgium, Czech Republic, France, Germany, Italy, South Korea, Spain, Sri Lanka, UAE, UK and the USA. The theme this year was 'Building India for a New World: Competitiveness, Growth, Sustainability, Technology'. The Indian Construction Equipment Manufacturers' Association (ICEMA) was the Sector Partner and the National Highways Authority of India (NHAI) and Builders Association of India (BAI) the supporting Partners for EXCON.
"The infrastructure sector is receiving an intense push from the Government, propelling India's overall development and GDP. The new policies announced by the Government would ensure the time-bound creation of world-class infrastructure in the country, making it India's new identity globally," said Basavaraj Bommai, Chief Minister, Government of Karnataka.
Delivering his inaugural address, Bommai said that the construction sector will have a major contribution to the Prime Minister's vision to make India a US$ 5 trillion economy. To achieve this goal, the government is embarking on major infrastructure and industrial projects worth Rs 100 trillion. "Though our major focus should be growing exponentially in the country by advancing our technologies, inclusion of people at the bottom of the pyramid is also critical since they are the movers of the economy. We urge the industries to collaborate with them to further enable the CE sector."
Guest of Honour, General VK Singh, Minister of State for Road Transport & Highways, Government of India, said, "India is an emerging hub for construction equipment, component outsourcing base and design base. The private players in the construction industry must concentrate on automation, adoption of advanced technologies and global best practices, usage of alternate fuels, and innovations in using waste materials as raw materials for their construction projects to diminish the cost of construction and rate of pollution." He added, "Infrastructure must be sustainable and the industry should take measures to enhance the quality at an affordable life cycle cost. India is working hard on hydrogen fuel technology and solar energy since we consider it as the future of the country. The CE industry must be prepared for the competitive market situation and focus on Industry 4.0 for revamping itself."
Deepak Shetty, Chairman, CII EXCON, said, "India must become less dependent on imports to build large scale infrastructure projects, roads, and ports. Hence, developing and embracing technologies is crucial so that we can expand our innovations and become an export hub globally. The three key strategies that will help us to fast-track developments are – focusing on new growth drivers, understanding the significance of rural economy and curating a roadmap for alternate fuels."
While proposing the vote of thanks, Dimitrov Krishnan, Co-chairman, EXCON, said, "The Indian construction equipment industry, being the third largest market in the world, has shown remarkable progress over the years. EXCON will set the pace for Atmanirbhar Bharat in infrastructure development in the country."
During the inaugural session, dignitaries at EXCON presented the "Women Building India Awards" to recognise the inclusion of women in the infrastructure industry. Women champions from Cummins India, Volvo CE India, Schwing Stetter India, and L&T Constructions & Mining Machinery were recognised for their efforts towards the same.
Read on for highlights from Excon 2021, followed by a photo feature and interviews from key industry experts…
Highlights from Excon 2021
BEML exhibited its construction equipment models of different capacities embedded with latest technologies. The equipment showcased included Model 'BD85' and 'BD50HST' in the Dozer Category, Model 'BG505I'&'BG405A' in the category of Motor Graders with emission norms compliant BSIV engines and Model 'BL30-1' in Loaders category.
CASE India celebrated its 180th Anniversary. The highly anticipated 770 NXe 49.5 hp Loader Backhoe made its debut alongside the 770 EX Plus and 851 FX CP variants. The CX220C LC Excavator, 1107EX Compactor and 845C Motor Grader were also launched to the public.
Caterpillar announced the addition of two Next Gen products – Cat 303 CR Mini Excavator and Cat 120 GC Motor Grader – into its portfolio of integrated solutions to deepen the company's presence in the infrastructure, mining, and energy sectors in India.
ELGi launched the electric-powered PG 110E-13.5, and the diesel-powered PG 575 – 225 trolley mounted portable air compressors to deliver reliability, low maintenance costs, high energy efficiency, and industry leading productivity for drilling operations.
Escorts Construction Equipment launched NXT13DC CNG, India's first Hybrid Pick-n-Carry Crane, with dual fuel (diesel & CNG) and RC2522, India's first Mono Chassis Safe Crane with 25T lift capacity.
JCB India introduced the industry's first fully electric excavator, the JCB 19C-1E; a 22-tonne hydraulic excavator on the NXT Platform specially designed for Indian applications; a 4 tonne Telescopic Hander; an Articulated Boom Lift AJ48 D; two new mini excavators for smart infrastructure – the 35Z HD and 37C HD; and JCB's Natural Gas Genset, the G125 NG.
JK Tyre & Industries launched four new offerings in their off-the-road tyre segment – 45/65-45 58PR VEM 63 L5 TL, 14.00-24 GTL Champ 16 PR G3 TT, 12.00-24 Hard Rock Champion 20PR E4 TT and 16.00-25 VEM 045 44PR E3 TT.
Larsen & Toubro, Komatsu India and Scania India put together an impressive display to showcase their technological strengths and service capabilities and reaffirm their strong commitment to sustainability. Four new environment-friendly, B20-biodiesel ready, hydraulic excavators – Komatsu PC205-10MO Hydraulic Excavator, Komatsu PC500LC-10R Hydraulic Excavator, Komatsu PC210LC-10M0 Super Long Front and Komatsu GD535-6 Motor Grader – were launched. The show has Komatsu, Scania and L&T displaying 18 machines and eight special attachments.
Mahindra unveiled its disruptive product innovation, the brand-new 'G75 Smart' Motor Grader.
MSRvantage showcased the use of technology like blockchain and cloud computing in infrastructure development along with big data, AR/VR, IoT and automation. Another highlight was the Track and Trace system that enables players to efficiently manage their supply chain.
Perkins participated along with its distributors GMMCO and Powerparts. Among its highlights were the Perkins 404D-22, a compact engine with multiple operations; the Perkins 1104D-44TA, well-known for its smooth and quiet interface; the Perkins 1206J-E44TA, which delivers a powerful performance and the Perkins 4006E, one of its most popular engines for generator sets in India.
Powerscreen launched its much-awaited Hybrid range – Powerscreen PT410E and MT1010E Hybrid powered machines.
Sany Bharat strengthens its technology line with 22 new launches.
Schwing Stetter India unveiled 14 new products.
Shell showcased its complete range of digital and fluid reliability solutions.
Tata Motors commercial vehicles showcases top-of-the-line, high-performance trucks and exhibits three exclusive zones – Surface Tipper Zone, Mining and Quarry Zone, and Ready-Mix Concrete Zone.
Terex India unveiled eight brand new products from six of their brands – Franna, Powerscreen, Finlay, MPS, TWS and EvoQuip.
Valvoline Cummins showcased some of its innovative and ground-breaking products – Premium Blue, Zerex, Power Select Ultra and AIRShield DEF (AUS 32), among other innovative, high-quality products.
Volvo Trucks India showcased two of its latest industry-leading trucks – Volvo FMX 500 8 x 4 off-road dump truck and Volvo FM 420 8 x 4 23 cu m construction tipper.
Related Stories