EXCON is equipped and back
01 Jul 2022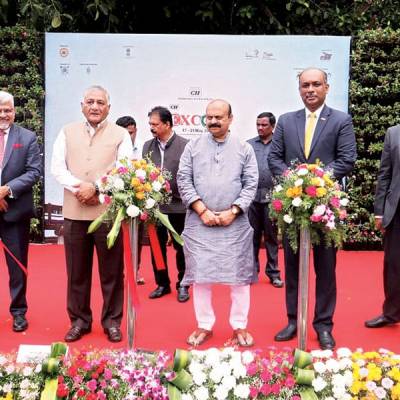 With the pandemic bringing a halt to the offline experience for over two years, Excon 2021 successfully made a post-COVID entry on the BIEC ground in Bengaluru. CW team was present to witness the success of the 11th edition.
Excon 2021 spread across 300,000 sq m and attracted over 800 exhibitors from India and abroad including countries such as Belgium, Czech Republic, France, Germany, Italy, South Korea, Spain, Sri Lanka, UAE, UK and the USA. The theme this year was 'Building India for a New World: Competitiveness, Growth, Sustainability, Technology'. The Indian Construction Equipment Manufacturers' Association (ICEMA) was the Sector Partner and the National Highways Authority of India (NHAI) and Builders Association of India (BAI) the supporting Partners for EXCON.
"The infrastructure sector is receiving an intense push from the Government, propelling India's overall development and GDP. The new policies announced by the Government would ensure the time-bound creation of world-class infrastructure in the country, making it India's new identity globally," said Basavaraj Bommai, Chief Minister, Government of Karnataka.
Delivering his inaugural address, Bommai said that the construction sector will have a major contribution to the Prime Minister's vision to make India a US$ 5 trillion economy. To achieve this goal, the government is embarking on major infrastructure and industrial projects worth Rs 100 trillion. "Though our major focus should be growing exponentially in the country by advancing our technologies, inclusion of people at the bottom of the pyramid is also critical since they are the ....
To read the full version, CLICK HERE.
Related Stories