Global City Gurugram: A Sustainable and Smart Urban Oasis
01 Jun 2023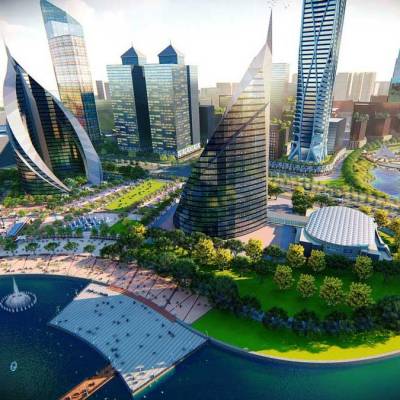 Gurugram, recognised as a prominent financial and technology hub in India, has experienced remarkable growth in its population, infrastructure, and economy in recent decades, establishing itself as a global city. It is home to numerous multinational corporations, major Indian companies, and a thriving real estate industry featuring luxurious residential and commercial developments.
In a recent report titled 'Global City Gurugram,' R&R has highlighted an upcoming development that will further enhance Gurugram's stature. The Haryana State Industrial and Infrastructure Development Corporation (HSIIDC), a government agency responsible for industrial and infrastructure development in Haryana, including Gurugram, is actively working on the development of Global City Gurugram. The primary objective of this project is to attract investment in industry, commerce, and trade. Collaborating with the China Fortune Land Development Company (CFLD), HSIIDC aims to incorporate international best practices and expertise into the project.
Global City Gurugram aims to elevate the magnificence and brilliance of Gurugram, introducing an entirely new dimension to the city. This initiative will position Gurugram on par with other existing and upcoming sustainable international cities worldwide.
The development of Global City Gurugram is focused on creating a smart city that prioritizes technology and sustainability. It will boast state-of-the-art infrastructure, including intelligent transportation systems, smart buildings, and renewable energy solutions. The city will be an integrated township, featuring a blend of residential, commercial, and industrial areas, accompanied by various amenities such as hospitals, schools, parks, and shopping centers.
Strategically situated across more than 1000 acres of land, capable of accommodating one million people, Global City Gurugram will span across Sectors 36, 36B, 37, and 37B of Gurugram along the 8-lane Dwarka Expressway. It aims to evolve into a self-sufficient Central Business District for Gurugram, with a strong focus on modern technology fields, low-carbon green infrastructure, transit-oriented development, and a convenient living environment.
The project encompasses a global Floor Area Ratio (FAR) of 3.0, offering real estate developers and investors mixed-use parcels alongside cutting-edge infrastructure, essential amenities, and a conducive business ecosystem.
Vishesh Prakash from R&R commented on the project, stating, "Gurugram has been a city of many firsts, and with this new-age sub city, it will be like adding a new feather to its cap. This planned mix land use development covering over 1000 acres is expected to be a self-sustainable city. The estimated cost of infrastructure development is approximately $1 billion, with the investment potential exceeding $15 billion. The city presents an opportunity for all stakeholders and aims to create something that will be cherished for generations."
Global City Gurugram will be a self-sufficient "city within a city," offering contemporary living with meticulously designed infrastructure and safety measures aligned with international best practices in planning, comparable to sustainable cities like Neom, Telosa, Gift City, and The Line. The city will provide a comprehensive 'Live, Work, Play' ecosystem that promotes a holistic and sustainable lifestyle.
The design of Global City Gurugram prioritises sustainability, self-sufficiency, and resilience through low-carbon infrastructure, public transportation systems, utilisation of renewable energy, energy-efficient building design, and recycling and reuse of waste and wastewater. The project aims to meet the needs of the present generation while safeguarding the requirements of future generations.
Related Stories