GMDA to revamp 5 roads in Gurugram for Dwarka Expressway connectivity
01 Jun 2023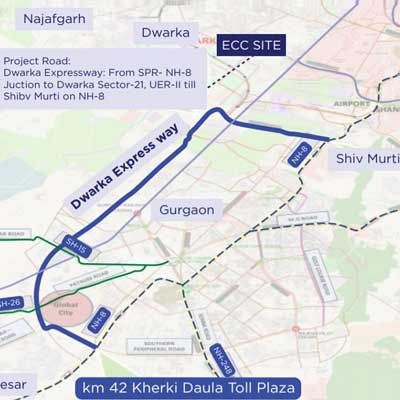 The Gurugram Metropolitan Development Authority (GMDA) will reconstruct five master roads between sectors 99 and 115 to connect traffic to the newly opened Dwarka Expressway.
According to officials, more than Rs. 80 crore would be spent on the development of these five highways, which are expected to be completed within a year. The GMDA's 62nd core planning cell meeting approved the refurbishment of these highways and the flotation of tenders.
According to GMDA authorities, all of these roads were developed by Haryana Shahari Vikas Pradhikaran (HSVP) in 2014 and were handed over to GMDA in 2018.
They said that after the handover, only patchwork had been done on all of these roads. The passage of large cars during the freeway building harmed the roadways. According to officials, all of these roads will require new construction.
The Sector 114 outer road, which will be 700 meters long, would be built at a cost of 10.66 crore, according to officials.
The second road will be the master road linking sectors 102 and 102A, which will cost 15.48 crore to build.
The third will be a route connecting sectors 106 and 103 that will cross the expressway and will cost Rs. 17.86 crore.
The fourth route to be improved will be the one connecting sectors 106 and 109, which will cost 18.92 crore. According to officials, there will be a junction on this route that will also connect to the Dwarka Expressway.
The master road between sectors 102A and 103, which would cost 16.41 crore, is the last road that the GMDA has planned to build. Officials stated that the master roads connecting sectors 102 and 102A, as well as sectors 102A and 103, will be critical because the forthcoming Sheetla Mata Medical College and Hospital is being built in Sector 102A.
Furthermore, the master road connecting sectors 102 and 102A will connect Hero Honda Chowk to AIIMS.
The GMDA's chief executive officer, PC Meena, stated that authorities have been instructed to ensure that the infrastructures being created include flyovers and underpasses.
"The revamp is keeping in mind the fact that once the Dwarka Expressway becomes operational, development work in these areas may pick up pace. Besides, directions have been given for construction of proper drainage systems along with the roads," he said. According to officials, all of these roads will be designed in such a way that people will be unable to make unauthorized cuts.
According to officials, the GMDA's roadways are separated into five zones: sectors 1 to 57, 58-67, 68-80, 81-95, and 99-115. They stated that the roads from sectors 1 to 80 have been developed and maintained, but those from sectors 81 are still being worked on. They stated that due to the Dwarka Expressway, which is projected to be completed by the end of the year, various roads in Zone 5 (99-105) are being built on a priority basis.
Pravin Malik, president of the United Association of New Gurugram, stated that while road development was a welcome move, connecting highways such as the Manesar-Dwarka Expressway link road and all other arterial roads should be prioritized. "GMDA should conduct an audit of master sector roads and ensure that the roads which are in poor condition are taken up for special repair, instead of maintaining these with only patch work," he said.
Aside from these roadways, permission was granted to issue a new tender for the building of a reinforced cement concrete (RCC) box-type new surface drain at Rajiv Chowk to alleviate significant water logging difficulties during heavy rains.
According to officials, building began in 2018 but was halted when the Covid-19 outbreak broke out. According to GMDA authorities, the business in charge of building the drain ceased work after the pandemic ended due to the increased cost of raw materials.
Meena stated that the construction of this drainage system will be prioritized.
According to officials, the tendering process for the drain will take nearly a month, after which work will begin after the monsoon and be completed in six months, as directed by the CEO.
See also:
Gurugram takes steps towards metro network: Construction to begin soon
Dwarka Expressway to be completed by April 2024


Related Stories