Gujarat's new Greenfield airport completes 95 per cent of earth work
01 Jan 2023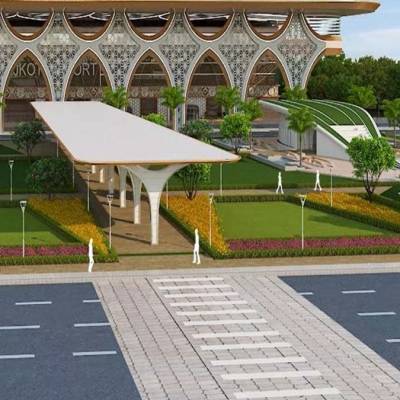 From railways to aviation, the country's infrastructure development is accelerating. Prime Minister Narendra Modi has made it a priority to provide world-class infrastructure and transportation facilities across the country. Airport transformation and expansion have been undertaken from time to time by the Airports Authority of India (AAI) and other Airport Developers in this context.
AAI has recently begun work on the construction of a new greenfield airport in Gujarat. The new airport is about 30 kilometres from Rajkot and on the Rajkot-Ahmadabad highway. The new airport will cost Rs 1,405 crores to build. More than 95% of the earthwork has been completed.
The airport, which spans 1,025 hectares, is being built with cutting-edge technology to improve the passenger experience. The airport will be operational by December 2023.
Terminal building
During peak hours, the new Greenfield Airport terminal building will be able to handle over 1,700 passengers. The building's facade design is inspired by Rajkot's existing palaces, such as the Ranjit Vilas Palace, and incorporates traditional elements into a modern form. Aside from that, the terminal building will feature various art forms such as dandiya dance.
The terminal will have a total built-up area of 23,000 sqm and will be outfitted with cutting-edge passenger amenities such as 20 check-in counters, three conveyor belts, and four passenger boarding bridges. The most recent firefighting equipment and a fire alarm system will also be installed.
Runway
Rajkot's new Greenfield airport's runway will be 3,040 meters long. It will be able to serve Airbus-321 aircraft, and the apron will be large enough to accommodate 14 aircraft.
About Rajkot
Gujarat's fourth-largest city is Rajkot. Once completed, the new Greenfield airport will help the neighborhood's businesses, bringing economic prosperity to the entire nation. It will shorten travel time and improve the region's air traffic flow.
See also:
Greenfield Airport in Rajkot to be operational by 2023 end
Centre 'in-principle' approves six greenfield airports


Related Stories