Gujarat's inaugural Vande Bharat connects Ahmedabad-Rajkot-Jamnagar
01 Sep 2023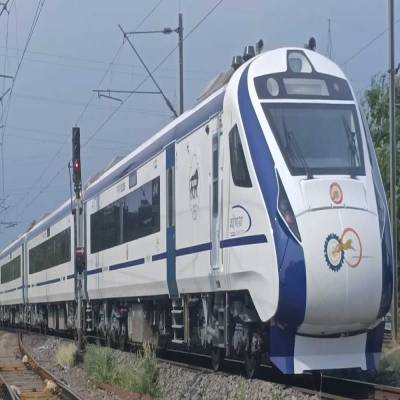 On its inaugural run, the Jamnagar-Ahmedabad Vande Bharat train made a grand entrance at Rajkot railway station, with Prime Minister Narendra Modi remotely inaugurating Gujarat's inaugural intra-state Vande Bharat train service. This new train route connects Ahmedabad, the state's commercial epicenter, with Rajkot and Jamnagar, the two largest cities in the Saurashtra region.
The Ahmedabad-Jamnagar Vande Bharat train's schedule is as follows: It departs from Ahmedabad daily at 5:55 pm, except on Tuesdays, arriving at Rajkot at 9:12 pm and reaching Jamnagar at 10:35 pm. From Jamnagar, it departs at 5:30 am every day except Wednesday, arrives at Rajkot at 6:25 am, and reaches Ahmedabad at 10:10 am.
PM Modi virtually flagged off the inaugural run of the train. In Jamnagar, BJP MP Poonam Madam gave the green signal to the train, while in Rajkot, various dignitaries, including Gujarat's Agriculture Minister Raghavji Patel, Tourism Minister Mulu Bera, Social Justice and Empowerment Minister Bhanuben Babariya, MPs Mohan Kundariya and Ram Mokariya, and Rajkot Mayor Nayna Pedhadiya, welcomed the train by showering it with flowers.
Comparatively, the Jamnagar-Vadodara intercity train departs from Jamnagar at 4:45 am, arrives in Rajkot at 6 am, and reaches Ahmedabad at 10:30 am. Vande Bharat covers the 332-km distance between Jamnagar and Ahmedabad in 4 hours and 40 minutes, while the Intercity train takes around 5 hours and 45 minutes.
For a one-way trip from Rajkot to Ahmedabad with refreshments, the fare will be Rs 810 for the chair car class and Rs 1,370 for the executive class. From Jamnagar to Rajkot, the fare will be Rs 440 and Rs 835, respectively, and from Jamnagar to Ahmedabad, it will be Rs 955 and Rs 1,790, respectively. The train consists of a total of eight coaches, including seven in the chair car class and one in the executive class. The executive class coach has 52 seats, while coaches C1 and C7 have 44 seats each, and the remaining five coaches have 78 seats each, providing a total seating capacity for 530 passengers.
During the inaugural run of the train, Tourism Minister Mulu Bera expressed his admiration for the train's onboard facilities, likening them to those found on trains in foreign countries. He noted that the actual facilities exceeded his expectations based on what he had seen on television.
For a one-way journey without catering services from Rajkot to Ahmedabad in the Second AC class of the Vadodara-Jamnagar Intercity train, the fare is Rs 435.
Related Stories