India Approves Rail Corridor to Connect Haryana with Gujarat Ports
01 Jul 2023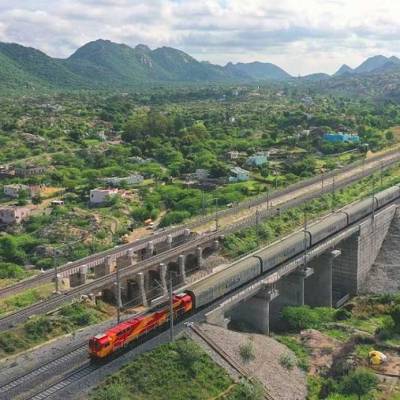 The Union Railway Ministry has authorized the 129-kilometer South Haryana Economic Rail Corridor, which will connect the state to four ports in Gujarat.
This corridor will cross Rajasthan. The construction is scheduled to begin in a few years, since the ministry is now organizing a survey of the semi-high speed rail corridor. For this survey, a budget of Rs 31 million has been set aside.
The corridor, which would cost Rs 12.25 billion, will run from Farrukhnagar in Gurgaon to Loharu in Bhiwani via Jhajjar and Charkhi Dadri.
The Farrukhnagar-Loharu railway will be linked to Bahadurgarh and Sonipat in Haryana in the future as part of the continuing construction of the Orbital Rail Corridor.
Existing railway lines from Delhi, Rajasthan, and Gurgaon will be linked to the Farrukhnagar-Loharu section as well.
"After construction of the corridor, Haryana will have direct connectivity with four ports of Gujarat — Kandla, Mundra, Navlakhi and Jakhau — through this railway line. It will indirectly help connect Delhi with the four ports," Rohtak MP Arvind Sharma stated, following his meeting with the Railway Minister Ashwini Vaishnaw.
The Haryana government approved the project in 2022. Trains will be able to operate at speeds ranging from 130 to 160 kmph once the line is completed.
The Haryana Rail Infrastructure Development Corporation (HRIDC), a joint venture between the Indian Railways and the Haryana government, will carry out the project's execution.
HRIDC is currently building the Haryana Orbital Rail Corridor, which will link Palwal and Sonipat through Sohna, Manesar, and Kharkhoda. This new railway line will be capable of handling both passenger and freight trains.
The project's goal is to shorten travel time for the region's numerous industrial centres. Officials claim that once completed, the road from Delhi-NCR to Gujarat will be shorter.
The proposed project promises to drastically shorten travel time between Delhi and several Rajasthan cities, including Sikar, Jhunjhunu, Bikaner, Jaisalmer, Jodhpur, Barmer, Hanumangarh, and Sri Ganganagar.
It will also boost connectivity between Delhi and Gujarat's Gandhidham, Bhuj, and Dwarka.
According to the study, trains from Delhi currently travel via Rewari to reach Rajasthan.
See also:
Haryana Orbital Rail: RVNL to construct a 5-km tunnel in the Aravallis
Nashik-Pune rail project beacons a new corridor


Related Stories