India signs up to boost infra projects in Maldives
01 Feb 2021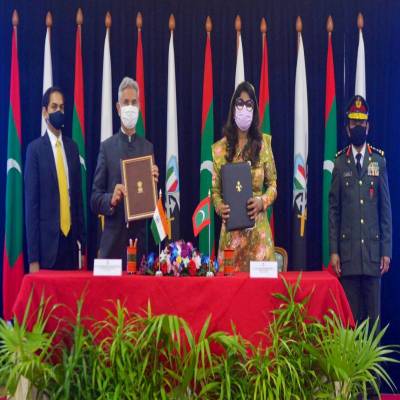 India and the Maldives have signed five agreements in a bid to boost the infrastructure of the island nation. Besides the five agreements, India also extended Line of Credit (LC) to the country for the development of sports infrastructure and defence projects.
There had been regular meetings and engagements between India and Maldives during the pandemic. Building upon these, External Affairs Minister S Jaishankar visited the island nation.
The five pacts that were signed during minister Jaishankar's visit are:
Amendatory agreement to repurpose an older LoC of India EXIM Bank of $25 million for road development.
Letter of Intent (LoI) between India EXIM Bank and local authorities of Maldives for financing a housing project of 2000 units in Hulhumale.
Memorandum of Understanding (MoU) on grant funding $0.5 million for a fish processing plant in Kendhikulhudhoo in the northern Maldives.
MoU on capacity building and exchange of content and expertise between Prasar Bharati and Public State Media, Maldives.
MoU on sustainable urban development between the Ministry of Housing and Urban Affairs (MoHUA) and the Ministry of National Planning, Housing and Infrastructure, Maldives.
An additional donation of 100,000 doses of Covid vaccines was also made by India to the Maldives.
---
Make in Steel 2021
24 February 
4th Indian Cement Review Conference 2021
17-18 March 
---
India also announced a $40 million standalone LoC to boost sports infrastructure in the Maldives. The government of India also extended a $50 million LoC to the Maldives for defence projects, and the two countries signed an agreement to develop and maintain a key naval facility for the armed forces of the Indian Ocean archipelago.
Prime Minister Narendra Modi had announced the commencement of direct cargo ferry service between India and Maldives in June 2019 to enhance sea connectivity and provide predictability in supplies and reduce logistics cost for India-Maldives trade. So far, six voyages have taken place.
Image: The defence LoC granted is said to facilitate capability building in the maritime domain.
---
Also read: Efforts underway to operationalise infra links with CMLV countries

Related Stories