Indian Cement Review Touts Decarbonisation Mantra & Awards Growth
01 Mar 2023
Long Read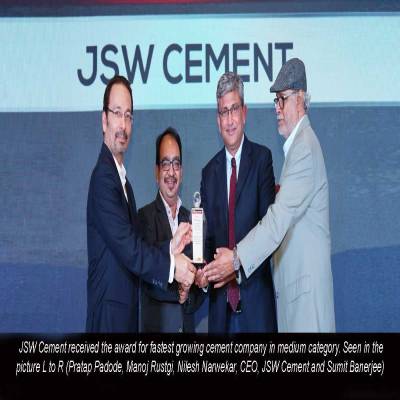 The 8th Indian Cement Review Conference and 13th Cement Expo held in Hyderabad on 24th February, 2023 brought the thought leaders of Indian cement industry on a single platform to discuss the efforts towards sustainability and decarbonisation, with a laser focus on C.A.S.E. cost-efficiency, automation, skilling and energy-efficiency.
Indian Cement Review Conference
The day turned out to become the epicenter of the cement industry leaders wherein
Shantanu Sharma,
Brand Manager, ExxonMobil underscored the importance of taking assured steps towards sustainability.
Dr Sriharsha Reddy,
Director, IMT Hyderabad brought up a number of important issues pertaining to fund procurement through traditional methods and the challenges therein.
A high-octane panel discussion was revolved around C.A.S.E for sustainability and decarbonisation. It witnessed deep deliberations from Sudipta Ghosh, Partner, PwC; Dr BN Mohapatra, DG, NCCBM; KN Rao, Corporate Head, MY Home Industries; Manoj Rustgi, EVP & Chief Sustainability and Innovation Officer, JSW Cement; Manoj Vyas, LEAD - AFR Sourcing & BD, VICAT; Dr Sriharsha Reddy and Shantanu Sharma.
Saurabh Palsania, ED & Group Commercial Head, Dalmia Cement (Bharat) shared deep insights on carbon capture technology and how it can revolutionise the cement industry.
The event also witnessed showcasing of innovate products and services to revolutionise the cement and allied industries by various industry experts including Jayesh Patil, Asst. Manager, Flow Aids, Martin Engineering; Nischal Basavaraj, Regional Head - South, Liugong India; Sasi M Kumar, BDM - Cement, ExxonMobil; and S Chakravarti, MD, Ecodea Projects and Control.
The highlight of the day was the high-profile roundtable session, with the cement industry leaders sharing their rich views on demystifying digitalisation and maximising the value chain impact. This forum was participated by various influencers like Madhav Vemuri, Industry Digital Transformation Entrepreneur; Ashok Dembla, President & MD, KHD Humboldt Wedag; Ganesh Jirkuntwar, ED & Head Manufacturing, Dalmia Cement; Subhasis Chattopadhyay, Head - Projects, Birla Corporation; Karthick Raja, CIO, Orient Cement; SS Luthra, Global Cement Digital, ABB; and Vishal Bhargava, Associate Director, Global Industries, IBM.
On the cement logistics part, innovative supply chain strategies in the cement industry were shared by Gaurav Gautam, Head of Sales, Beumer Group, Raveen Reddy, CAO - Systems, Indian Railways; Praveen Garg, Sr VP - Logistics & Energy Sourcing, VICAT; and Vaibhav Agarwal, Research Analyst, PhillipCapital.
ICR Awards
Indian Cement Review Awards 2023 were presented to the fastest growing cement companies in various categories.
Large Category (over Rs 5000 cr turnover)

Ranking

Brand Name

1

UltraTech Cement

2

JK Cement

3

JK Lakshmi Cement

3

Dalmia Cement (Bharat)
Medium Category (between Rs 2000-5000 cr turnover)

Ranking

Brand Name

1

JSW Cement

2

Star Cement
Small Category (under Rs 2000cr turnover)

Ranking

Brand Name

1

Udaipur Cement Works

2

Shree Digvijay Cement
 KC Jhanwar, MD, UltraTech stole the show as recipient of the 'Man of the Year 2022-23' award.
Related Stories