Indian FM Denies Plans for Electric Vehicle Import Tariff Reduction
01 Aug 2023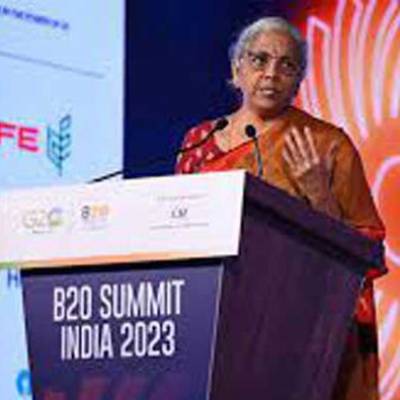 Union Finance Minister Nirmala Sitharaman refuted the claims that the government is contemplating a reduction in import tariffs for electric vehicles if car manufacturers collaborate with local production units. This clarification follows a previous report by Reuters stating that the central government is potentially considering a decrease in import duties, potentially as low as 15%, from the current rates of 100% for vehicles exceeding ₹33 Lakhs in cost and 70% for others.
Addressing reporters at the B20 summit, Union Finance Minister Nirmala Sitharaman stated, "I do not have any proposal in front of me to lower the import duties on electric vehicles."
This reduction in import duties could benefit companies like Tesla, which have expressed interest in entering the Indian market and have submitted a proposal to establish a local car manufacturing facility. An official familiar with the matter was cited in the report as mentioning that there seems to be an alignment with Tesla's proposal, and the government is displaying interest.
Concerns held by Tesla regarding the Indian market are noteworthy. Elon Musk, the founder of Tesla, has raised concerns about the high tariff rates in India. After careful consideration, the company initiated discussions about potentially entering the Indian automobile market. In 2021, Tesla advocated for a reduction in the existing 100% import tax imposed on electric vehicles (EVs) in its efforts to establish a presence in India.
However, the potential agreement between Elon Musk and Indian authorities did not come to fruition, as the Indian government stressed the necessity for a solid commitment to local manufacturing as a prerequisite for any arrangement.
The clarification provided by Nirmala Sitharaman has dampened the expectations of several manufacturers that had risen after the Reuters report. It remains uncertain at this point whether the decision to maintain the existing import tax rates will impact Tesla's plans to establish its car manufacturing facility.
See also:
Maharashtra's electric vehicle power sales surge 216%
India approves 10,000 electric buses for sustainable urban transport


Related Stories