Indian Railways implements uniform Signage system for stations
01 May 2023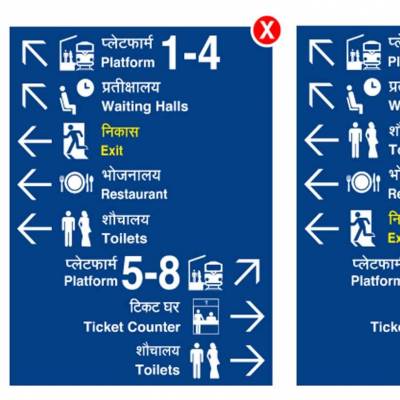 Indian Railways is preparing to introduce uniform signage at all stations throughout the country, ensuring a consistent and easily comprehensible system for passengers. This initiative is part of the Amrit Bharat Stations Scheme, which aims to redevelop 1,275 stations, prioritising the provision of safe, comfortable, and clean railway premises.
On Monday, Railway Minister Ashwini Vaishnaw published a booklet on Standard Signages at Stations on Indian Railways, which outlines the guidelines for the new system. The guidelines place importance on using simple language, clear fonts, easily visible colours, and intuitive pictograms, with a focus on creating signage that is accessible to individuals with disabilities.
Vaishnaw stated, "The Indian Railways have been diligently working towards improving the passenger experience at railway stations. It was deemed necessary to establish standard guidelines for signage at stations that are consistent and adequate.
Indian Railways will adopt modern, standardised signage that is accessible to individuals with disabilities."
The booklet also introduces the concept of grouping signages to facilitate quicker navigation and the introduction of new tertiary boards displaying station names with tricolor backgrounds. While there is an emphasis on standardising signages, the importance of flexibility has also been acknowledged for stations with distinct architectural characteristics.
According to the Ministry of Railways, work is already underway at 88 stations, and tendering and planning are in progress for an additional 1,187 stations.
The scheme is based on long-term master planning and the implementation of plan elements according to the station's requirements and usage, the ministry added.
Also Read
Indian Railways launches One Station One Product scheme
RITES seeks bids for NLC India railway siding bridge


Related Stories