Indian Railways invested over Rs 1 trillion on safety measures
01 Jun 2023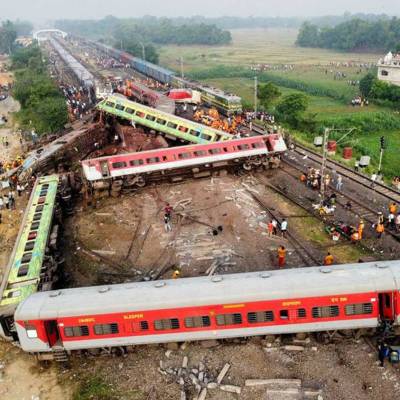 According to an official document, the Indian Railways has invested more than Rs 1 trillion in safety measures between the fiscal years 2017-2018 and 2021-2022, with a significant increase in expenditure on track renewal. The government is also expected to respond to a report from the Comptroller and Auditor General of India (CAG) that was mentioned by Congress president Mallikarjun Kharge, criticising the Centre regarding a recent train accident in Odisha.
Kharge, in a letter to Prime Minister Narendra Modi, questioned the railway minister's claims about safety and expressed concerns over the declining safety standards. He highlighted the 2022 CAG report, "Derailment in Indian Railways," which revealed a 79% reduction in funding for the Rashtriya Rail Sanraksha Kosh (RRSK), a safety fund. Kharge questioned why the required funds were not allocated for track renewal work despite the government's initial commitment.
However, the data presented in the document contradicts Kharge's claims. It shows that between 2017-18 and 2021-22, the railways allocated more than Rs 1 trillion for RRSK works. In February 2022, the validity of RRSK was extended for another five years, starting from 2022-23. The data on track renewal expenditure demonstrates a consistent growth pattern. From Rs 88.84 billion in 2017-18, the expenditure increased to Rs 135.22 billion in 2020-21, and further to Rs 165.58 billion in 2021-22.
In total, the railways spent Rs 580.45 billion on track renewal during this period. The government source clarified that the CAG report only covers three years, providing a partial picture of the actual expenditure on track renewal and safety-related works. The source mentioned that a detailed response addressing all the raised issues will be sent shortly.
The source further stated that the actual expenditure trend on track renewal and safety-related works has significantly increased over the years. The expenditure on track renewal rose from Rs 470.39 billion between 2004-05 and 2013-14 to Rs 1,090.23 billion between 2014-15 and 2023-24 (budget estimate). Similarly, the expenditure on safety-related works increased from Rs 702.74 billion to Rs 1,780.12 billion during the same period, reflecting more than a two-fold increase.
Related Stories