Indian Railways to earmark Rs 13,000 cr for stations upgrade in FY24
01 May 2023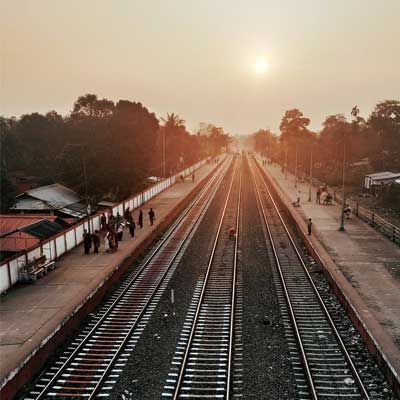 The railway ministry is pushing ahead with plans to redevelop and modernise nearly 1,300 railway stations under the Amrit Bharat scheme, allocating Rs 13,000 crore from its FY24 capex outlay for this project, a 240% increase year on year.
According to a senior official, the ministry hopes to "start, if not complete, the majority of the project work in this fiscal year." "The Amrit Bharat station scheme to redevelop 1,275 stations is being taken up on a priority basis this fiscal year," the official added. Around 15 railway stations in each division have been identified, and at least the smaller ones will be upgraded this year." The plan was unveiled late last year.
Instead of going the public-private partnership route, which hasn't made much progress despite many innovations in concession models, the ministry intends to use its own capital for station upgrades. The project's capex allocation for the current fiscal year will be a significant increase from Rs 3,824 crore in FY23 and Rs 1,996 crore in FY22.
Land parcels surrounding the stations will be monetized by leasing them to private players for commercial development. These land parcels are expected to generate revenue in the coming years as the stations are redeveloped.
Master plans are being developed for each of these stations, and the upgrades will include improved customer amenities such as improved station accessibility, toilets, lifts and escalators as needed, cleanliness, free Wi-Fi, kiosks/stalls for selling local products through schemes such as 'One Station One Product,' and the construction of executive lounges. Access to the station buildings will be improved, and roof top redevelopment will be pursued where feasible.
The railway's capital expenditure has increased dramatically in recent years. The current year's outlay of Rs 2.6 trillion is 6% higher than the Rs 2.45 trillion spent in FY23, while the previous year's outlay was Rs 1.9 trillion. Another feature of the capex pattern is the significant increase in the budgetary component of capex, with the current year's outlay of Rs 2.4 trillion being 51% higher than the previous year.
The project also includes the redevelopment of larger stations such as Mumbai's Chhatrapati Shivaji Maharaj Terminus (CSMT) and the New Delhi railway station. Rail Land Development Authority awarded Ahluwalia Contracts the '2,450 crore redevelopment of CSMT earlier this month.
The bids for the New Delhi railway station, on the other hand, have been cancelled, and the railways will soon call for new bids. According to sources, new bids will be solicited after it is determined why the prices quoted were significantly higher than the railway ministry's estimates. The process could take about two to three months before fresh bids are invited.
Also Read
Govt. of Rajasthan issues a call for bids for water projects in Kota
Varanasi Ropeway Project's civil work to commence this week

Related Stories