JK Cement launches Prayagraj Grinding Unit
01 Sep 2023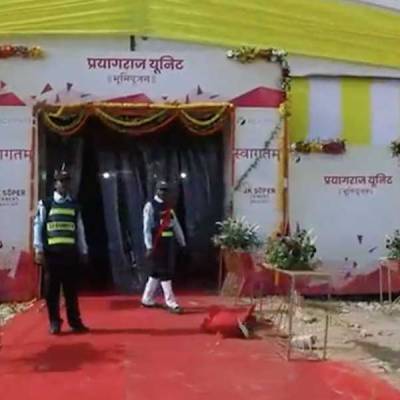 In a significant move towards expansion and innovation, JK Cement, one of India's foremost manufacturers of Grey Cement and one of the world's largest White Cement manufacturers, marked a momentous occasion by laying the foundation stone for its state-of-the-art grinding unit in Prayagraj, Uttar Pradesh. The esteemed event was graced by Deputy Managing Director & CEO Madhavkrishna Singhania and the senior leadership team.
Commencing the construction and installation journey, the inception of the Grinding Unit boasts an impressive investment of approximately Rs 5 billion, with a remarkable total production capacity of 2.5 Million Tonnes Per Annum (MTPA). This strategically located facility in Prayagraj, Uttar Pradesh, not only enhances JK Cement's production capabilities but also paves the way for creating both direct and indirect employment opportunities for the local community.
Commenting on this expansion, Dr Raghavpat Singhania, Managing Director of JK Cement, stated, "JK Cement stands on the brink of exciting opportunities, driven by our expanding capacities, robust regional diversification, and a continuously evolving portfolio that aligns seamlessly with market demands. This strategic trajectory perfectly aligns with our vision to increase capacity and expand our presence in untapped markets, reflecting the expected growth in demand in the coming years. These ambitions underscore our unwavering commitment to quality, innovation, and our contribution to the socio-economic fabric while maintaining the highest standards of operational excellence. We believe that these efforts will not only fuel our own growth but also actively contribute to the development of the region and the nation. We firmly believe that progress is multi-dimensional and intricately connected. As India accelerates its infrastructure development to support robust economic growth, we are scaling our capacities to meet the rising demands from the infrastructure, housing, and construction sectors."
This strategic capacity expansion positions the company to cater to the evolving needs of a diverse customer base across key markets. With the establishment of the Prayagraj plant in Uttar Pradesh, they are on track to surpass their target of achieving 25 MnTPA grey cement capacity by FY 2024-25. Furthermore, they have a well-planned expansion in place to reach 30 MnTPA in the medium term.
Adding to this, Deputy Managing Director and CEO, Madhavkrishna Singhania, stated, "In our relentless pursuit of excellence, securing our market presence remains a paramount objective, aligning seamlessly with the company's overarching vision of achieving sustainable and profitable expansion. This strategic addition not only reaffirms our steadfast role in nation-building but also brings a host of employment opportunities to the state."
"As we move forward, our commitment to operational excellence and innovative contributions remains unswerving, propelling growth and progress at both regional and national levels. With strategic expansion and a customer-centric approach, JK Cement has earned significant prominence within the cement industry, setting unprecedented benchmarks for quality and reliability. Simultaneously, the company remains resolute in enhancing operational efficiency and minimising its ecological footprint."
Currently, JK Cement operates two functional units in the state of Uttar Pradesh, located in Aligarh and Hamipur. The Prayagraj grinding unit project epitomises their dedication to responsible expansion, innovation, and contributing to the regions in which they operate. This facility, equipped with cutting-edge technologies, embodies efficiency, sustainability, and environmental responsibility.
Related Stories