Kalamassery Metro connects to Kakkanad Water Metro
01 Sep 2023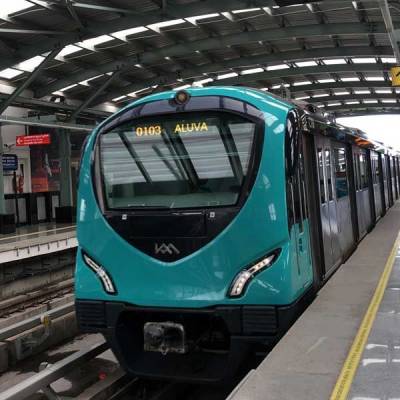 Six years into its operations, Kochi Metro Rail (KMRL) has been gradually improving its first-and-last-mile connectivity through the use of electric feeder buses. The feeder service from Aluva metro station to Kochi airport had proven to be a resounding success. At present, it has extended its service to connect Kalamassery metro station with the Kakkanad water metro terminal. An official from KMRL stated, "There has been a significant demand for last-mile connectivity between Kalamassery metro station and Kakkanad. We conducted a trial on this route last month and observed it to be successful."
The official further added, "On average, approximately 1,300 passengers were utilizing the service on a daily basis. This expansion aims to ensure seamless connectivity between the metro rail system and water transportation to and from the city." KMRL operates a fleet of six buses for its feeder service, with four serving the Aluva airport route and the remaining two covering the Kalamassery-Kakkanad route. In response to increased demand on the Aluva airport route, the frequency of services has been reduced from 30 minutes to 15 minutes.
"The first feeder bus service commences at 6:30 am from Aluva, with the last service departing at 9:15 pm. On the Kalamassery-Kakkanad route, we have two buses taking different routes," the official explained.
"The first feeder bus from Kalamassery to Kakkanad departs at 7:35 am and includes a stop at Infopark before returning to Kalamassery station. The second bus covers Kalamassery Medical College and Infopark," the official elaborated.
Several months ago, KMRL had solicited expressions of interest from bus operators to provide an electric feeder service. This initiative came after KMRL terminated its contract with Kleen and Smart Bus. The official stated, "Chakra Synergy has been awarded the contract to operate electric buses on both routes for a period of six months."
Regarding the introduction of the feeder service on additional routes, the official mentioned that it would be based on demand, future prospects, and the overall integration of the project.
Also read: 
Hyderabad Metro phase 3: Systra & Aarvee get DPR contract
Land Acquisition for Nanded-Wardha Rail Reaches 90% Completion


Related Stories