L&T commences Chennai Metro Ph 2 tunnelling with TBM Siruvani
01 Sep 2023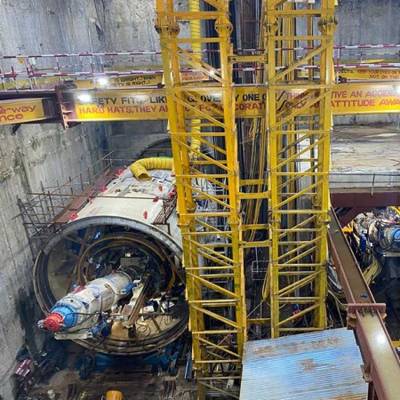 Larsen & Toubro (L&T) officially put into operation tunnel boring machine (TBM) DZ1040, affectionately named Siruvani, as a pivotal milestone in the Chennai Metro Phase 2 project. This impressive 6.65-meter Earth Pressure Balance (EPB) machine represents the third out of a total of eight TBMs scheduled to commence tunnelling activities for Line-3's Package TU-02, connecting the Kellys and Taramani Road Junction stations.
The TBM Siruvani, crafted by China Railway Construction Heavy Industry (CRCHI), successfully completed rigorous factory acceptance tests during the summer of 2022. It is now geared up to embark on its journey southward from Chetpet Station towards Sterling Road, initially covering a distance of approximately 705 meters.
L&T, the designated project contractor, will deploy TBM Siruvani along with seven other TBMs to construct an impressive network of 12 twin tunnels, totalling a remarkable 24 kilometres between the Kellys and Taramani Road Junction stations. The contract for Package TU-02, valued at Rs 23.85 billion, was entrusted to L&T by Chennai Metro Rail. (CMRL) in May 2021, with a deadline set at 42 months.
In addition to the tunnel construction, L&T is also tasked with the construction of diaphragm walls and entry/exit structures at several stations, including Chetpet Station, Royapettah Government Hospital Station, Thiruvanmiyur Station, and a section of the diaphragm wall at Greenways Road Station. This encompasses the construction of launching and retrieval shafts at these respective stations.
In June, L&T initiated the intricate process of lowering the components of TBM Siruvani into Chetpet Station. Up to this point, the machine has assembled two temporary rings within the shaft for its initial drive, with plans to attach its backup gantry for the primary drive in the near future.
Related Stories