Maha & SIBC sign MoU for sustainable infra and defence manufacturing
01 Mar 2023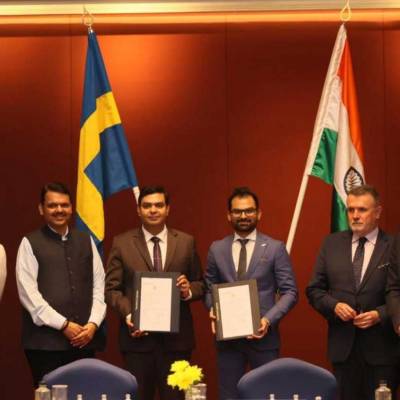 The Sweden India Business Council (SIBC) and Maharashtra government have signed a memorandum of understanding (MoU) for collaboration in waste to energy, sustainable infrastructure and transportation, defence manufacturing, and investment. Devendra Fadnavis, the Deputy Chief Minister of Maharashtra, was present when the Agreement was signed.
After the signing of the MoU, Devendra Fadnavis tweeted, "Maharashtra is the 'Second Home' to Swedish companies and 'Power House' of India. The relation between Maharashtra and Sweden is now 100 years old and we pledge to make it stronger ahead. Looking forward to work together in innovation, manufacturing, technology, solar energy, green and clean energies."
The MoU was signed by the Maharashtra Industrial Development Corporation (MIDC) and the Sweden India Business Council (SIBC). "Swedish business will keep growing and investing in Maharashtra. With the use of this Agreement, the two parties hope to forge closer links that will foster employment growth and technological collaboration as well as a more sustainable future" Prashant Agarwal, a member of the SIBC board remarked.
The two parties, like the State of Maharashtra and the Sweden-India Business Council, have also decided to collaborate to look into and facilitate financial options. Anna Lekvall, Consul General of Sweden in Mumbai said, "Maharashtra has historically been an important region for Sweden, right from the 1960s, when large Swedish companies set up operations in Pune. I am delighted that we are deepening the ties in many ways and welcome the new collaboration between Maharashtra government and Sweden-India Business Council."
Related Stories