Material Handling: Five sectors, five applications
01 Sep 2022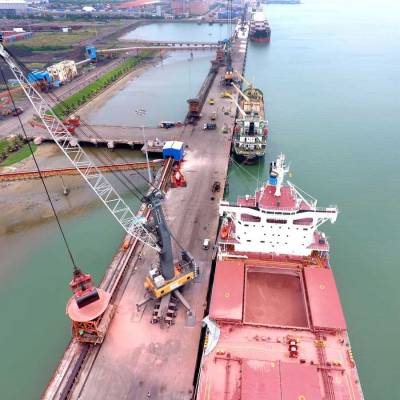 Globally, the material handling equipment market is projected to grow at 5.4 per cent between now and 2030. In particular, India and China are expected to help OEMs expand their end-user markets, possibly because this segment of machines is permeating so many varied industries, from ports to the construction of buildings and infrastructure, the maintenance of those assets, logistics and more.
The Bothra Group has been using Liebherr harbour mobile cranes since 2004. "As of today, we have the second largest fleet (after Adani) of harbour mobile cranes in India—17 Liebherr cranes across the east coast ports where we have operations, such as Haldia, Paradip, Visakhapatnam, Gopalpur and Kakinada," shares Rahil Sahu, General Manager, Bothra Shipping Services.
"When choosing equipment, we looked for well-established brands withthe ability to supply quickly, offering a decent credit period andwhose products had a good resale value," says Sourajit Mukherjee, CEO, e2ERail.
"With the feeder breaker, crushing happens at a regulated pace, thereby ensuring that coal can be evacuated smoothly from under the ground to the surface through a series of gate belt and trunk belt conveyors," explains Paka Ravi Kiran, Manager, SCCL Colliery Manager.
"Essentially, the feeder breaker performance is optimised to discharge coal in synchronisation with the rated peak capacity of the belt conveyors, while ensuring minimal downtime. This ensures overall productivity."
The Maharashtra State Road Development Corporation is using an Alimak MC 650 work platform to assist the maintenance of the bridge pylons of Mumbai's Rajiv Gandhi Sea Link, popularly known as the Bandra Worli Sea Link, India's fourth longest bridge.
Ecom Express uses a semi-automated spiral chute and controlled vertical reciprocating conveyors that are capable of simultaneously handling different products from the verticals it serves: firms in the B2B, B2C and e-grocery segments. "To pick up items from the inventory and move them out to the drop zone for invoicing smoothly and conveniently, we deploy multi-bin pick trolleys and platform trolleys," says Lakshmanan S, Chief Operating Officer, Ecom Fulfillment Services. "To move heavy material from point to point on the floor, we use platform trolleys and hand pallet trucks. To load and unload trucks, we rely on manual and battery-operated hand pallet trucks."
To read the full interaction, CLICK HERE.
Related Stories