Nagpur Municipal Corporation identifies 142 roads for concretisation
01 Jun 2023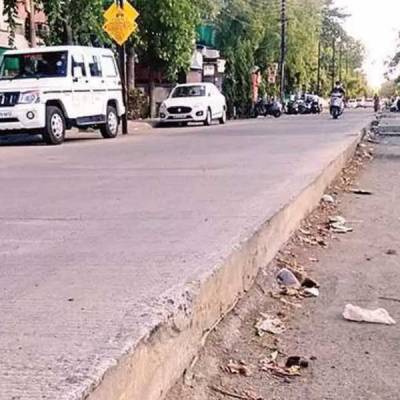 Amidst ongoing controversies surrounding substandard work and excessive delays, the Nagpur Municipal Corporation (NMC) has identified an additional 142 major roads wider than 12 meters for the Cement Concrete Road Project Phase-IV. In first, roads located outside the Inner Ring Road (IRR) have also been selected for concretisation.
Deputy Chief Minister and Guardian Minister, Devendra Fadnavis, had recently announced the approval of Rs 10 billion for the NMC to concretise the remaining major roads in the city. The state government reportedly released an initial instalment of Rs 3 billion for this purpose.
"The ten zones were instructed to survey and provide a list of roads wider than 12 meters for concretisation. The first three phases focused on roads within the IRR, but this time we requested a list of roads outside the IRR," explained NMC officials.
The zones compiled a list of 167 such roads, out of which 25 will be concretised under the Central Road Fund (CRF) or fall under the jurisdiction of other agencies such as the Nagpur Improvement Trust (NIT) and the state's public works department. Hence, the remaining 142 roads are eligible for concretisation.
According to NMC officials, these 142 roads have an approximate length of 107 kilometres, with 105 roads stretching 67 kilometres falling within the IRR, and the remaining 37 roads spanning 40 kilometres located outside the IRR.
Following the concretisation of these 167 roads, nearly all roads in the city with a width of 12 meters and above are expected to be made of cement concrete.
The civic body initiated the concretisation of major roads with Phase-I, which commenced on June 6, 2011, encompassing 30 roads spanning 26 kilometres. The project was scheduled for completion on June 5, 2013. However, the project has been plagued by substandard work and significant delays. Even after 12 years, the works of Phase-I remain incomplete.
Under Phase II, 51 roads covering 68 kilometres were selected for concretisation in 2015-16, with minor works still pending. In 2016-17, Phase III was initiated, involving 39 roads spanning 41 kilometres, and the work is currently in progress.
The state Public Works Department (PWD) had also commenced the concretisation of roads with funds sanctioned by Union Minister Nitin Gadkari. The Inner Ring Road, spanning 40 kilometres, has already been concretised, followed by Wardha Road and Amravati Road. Unfortunately, these concretised roads by the state PWD have also been affected by subpar workmanship and slow progress.
Had the NMC and state PWD completed their work within the specified deadlines, almost all major roads could have been concretised by now. The NMC had financed Phase-I from its own resources.
Also Read
India proposes global standards for low-carbon hydrogen at G20
Adani Green Energy to Seek $1 Billion in Funding


Related Stories