Navi Mumbai airport to have 4 terminals and a 42-plane capacity
01 Jun 2023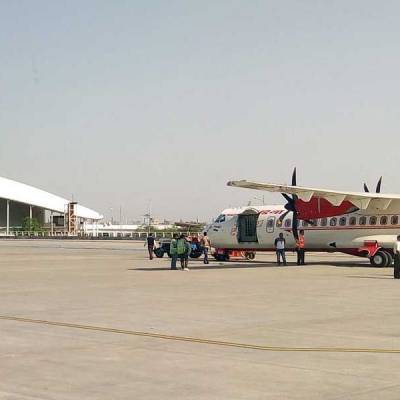 Eknath Shinde, Chief Minister, Maharashtra, announced that the Navi Mumbai International Airport (NMIA) was on track to open for air traffic the following year. He mentioned that the project implementors had stated December as the target, but he had instructed them to aim for starting operations in March, April, or at the latest, May. He emphasised the significance of the airport for both the state and the country and assured full cooperation from the state government.
During an aerial inspection of the airport site, Shinde, accompanied by deputy chief minister Devendra Fadnavis, ensured that the construction was progressing according to schedule. After the inspection, a presentation was given by the Adani Group, the project implementers.
Shinde stated that the ground-breaking ceremony of the airport had taken place with the presence of Prime Minister Narendra Modi, and the inauguration would also be carried out by him. He highlighted the importance of the Navi Mumbai airport for Pune, Mumbai, and Goa, expressing satisfaction with the speedy progress in its construction. He instructed the concerned authorities to promptly address any construction-related issues.
According to a statement from the chief minister's office (CMO), the airport would accommodate over nine crore passengers annually, providing immense relief to the residents of the Mumbai Metropolitan Region. Efforts were being made to expedite permissions to increase its capacity. The CMO statement mentioned that the airport would comprise four terminals and offer parking spaces for 42 aircraft. Additionally, a spacious parking lot with a capacity of 5,500 vehicles would be available.
The airport would be connected to the 22-km Mumbai Trans-Harbour Link (MTHL), which would serve as the main road connector between the airport and the metropolis.
Fadnavis stressed that the airport project was progressing rapidly and would become a unique airport in the country. He explained that the purpose of the inspection was to accelerate the work by addressing any issues and ensure its completion by 2024.
Also read:
Go First seeks DGCA approval for 22 aircraft relaunch
Mangaluru International Airport Switches to Energy-Efficient Lighting


Related Stories