Prime Minister Modi inaugurates New Goa Airport at Mopa
01 Dec 2022
Long Read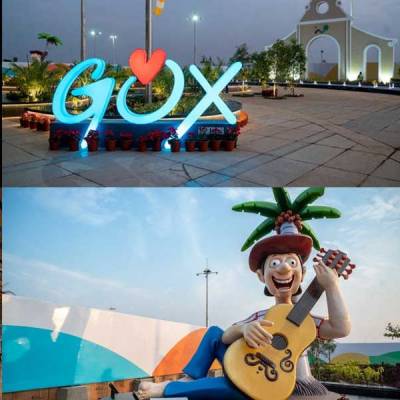 Hon'ble Prime Minister Shri. Narendra Modi has inaugurated the New Goa Airport at Mopa in North Goa. The Prime Minister dedicated the airport to the nation at a grand ceremony organised by GMR Goa International Airport Limited (GGIAL), a wholly owned subsidiary of GMR Airports Limited (GAL). GGIAL is a Special Purpose Vehicle (SPV) created to design, build, finance, operate and transfer (DBFOT) the New Goa Airport. Built on 2,132 acres, the New Goa Airport is located at Pernem Taluka in North Goa. It is a state-of-the-art 24x7x365 international airport serving all the segments of inbound and outbound tourism. Initially, Phase I of the airport will cater to around 4.4 million passengers per annum (MPPA), with a saturation capacity of 33 MPPA.
The New Goa Airport will be a zero-carbon footprint airport and will join a very elite club of green airports across the world.
The initiatives which make the airport environmentally sustainable include:

A 5 MW Solar PV power generation plant within the airport premises.
Bridge Mounted Equipment have been installed to reduce Green House Gas (GHG) emissions from Auxiliary Power Units (APUs) of Aircrafts.
The airport has a state of the art 625 KLD capacity Sewage Treatment Plant (STP) making the airport a zero-discharge unit.
The airport has a solid waste management plant with a capacity to process two tonnes of biodegradable waste everyday & three tons of non-biodegradable waste per day.
As a part of afforestation plan, five lac tree saplings have been planted in and around the airport. About 165 acres of land with existing tree cover have been retained.
Green & sustainable initiative adopted by the airport operator has brought down the power requirement to around 10 MW in place of 40 MW as envisaged in the pre-bid document.
Salient features of the New Goa International Airport as of now are:
Main Runway: 3.5 km long and 60 metres wide code 4E compliant runway; capable of handling world's largest aircraft like Airbus A380/equivalent.
Parallel Taxiway: similar specification as the main runway, with 2 Rapid Exit Taxiways & 6 Cross Taxiways
Parking Bays: 14 in total, out of which five are aerobridges.
Provides adequate night parking facilities for aircrafts
Comprehensive underground fuel hydrant system backed up with 7,500 Kilo Litres of ATF storage.
Expansive 25,000 Metric Tonnes temperature-controlled cargo terminal
18 check-in counters and four self-baggage drop facilities
12 immigration and eight emigration counters
Integrated terminal building with contemporary world class amenities
State of the art and independent air navigation infrastructure
Adequate in-flight catering services
Airside and terminal infrastructure are expandable in a modular manner to meet future demand
Speaking on the occasion, I. Prabhakara Rao, Group Dy. Managing Director, GMR Group, said: "The airport terminal is a modern building that promotes environment sustainability by using renewable energy, recycled resources and latest technology. The airport, which resonates the true values of the GMR Group, has been designed keeping in mind the nature, culture, and spirit of Goa. It is going to be a true destination airport."
R. V. Sheshan, CEO, GGIAL, said, "At GGIAL, we will work towards making the New Goa International Airport an airport of choice for airlines, passengers and other stakeholders, by unlocking the true potential of Goa. It will serve the needs of the growing tourism industry in Goa along with ensuring a fillip to the state's GDP. We are confident that the New Goa International Airport will offer a plethora of employment and tourism opportunities, promoting socio-economic development in Goa."
The New Goa airport will provide passengers and visitors an experience & feel of Goa the moment they land. The airport will have a designated area for a curated flea market where local artisans and craftsmen will be encouraged to display and market their wares. Apart from this, the airport has extensively used Goa's own Azulejos tiles. The use of bright hues of red, blue, green and yellow with white borders on the walls replicates the look and feel of old Goa. The food court recreates the charm of a typical Goan café, with the walls painted in bright colours and the counters made of tin-glazed blue-and-white Azulejos tiles. There is also a huge art installation at the airport made of recycled bottles, depicting a theme of 'marigold flower'.
The New Goa Airport has also set up Aviation Skill Development Centre, which will skill & empower the local Goan youth & make them employable in the aviation industry. About 2000 people are likely to be employed in the airport operations & it is expected that more 5000 people will be indirectly benefitted from the airport.
Related Stories