PSP Projects Receives Contract To Build SMC Twin Tower
01 Jan 2023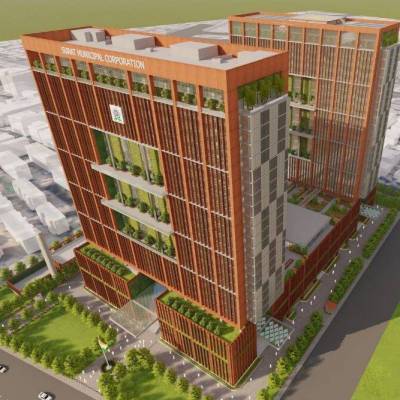 PSP Projects Ltd (PPL), an Ahmedabad-based company, has been awarded a Rs 13.44 billion contract to build the twin towers that will house the administrative and other departments of the Surat Municipal Corporation (SMC).
The standing committee approved the design for the 27-story buildings, which will be the tallest in South Gujarat.
The former Sub Jail property on Ring Road, where the towers would be built, is owned by the state government and has a built-up area of 2.20 lakh square meters. It's worth noting that the ground-breaking ceremony for SMC's new administrative building was performed in 2014 by then-Chief Minister Anandiben Patel.
However, because the structural design was revised, the project went through several stages and was delayed. Each skyscraper will be 105.3 meters tall and will have four subterranean parking spaces with a capacity of 4,400 vehicles.
State and central government offices would be housed in Tower B, while SMC offices from 35 different departments would be housed in Tower A. Along with elected members' offices, the buildings will include a civic centre, library, and security and monitoring room.
There will be 36 elevators, a 200-seat boardroom, a 100-seat standing committee room, and six committee rooms with a 35-person capacity each. A solar power plant will be located on the rooftop. The lower-level patio floor will be used by staff for a range of recreational pursuits.
Ketan Desai, SMC City Engineer Special Cell said, "The value of the space allotment for these offices to the government department will be on per square feet depending on the formula of construction costs, operation and maintenance expenses and land value. We are working on this formula but various changes may come up in future. This project will be completed in three years, excluding the monsoon season. The expenses will be borne by SMC, the state government and the Central government."
Instead of the previous proposal to have SMC offices in both towers so that people could complete their work in one location, Prime Minister Narendra Modi urged that offices of various departments of the state and central governments be included in the buildings.
PSP will also have a five-year operating and maintenance contract for the twin towers. The firm has completed numerous government projects, including the rehabilitation of the Gujarat Assembly building in Gandhinagar, the CG Road Redevelopment, and the Sabarmati Riverfront. With a contract worth Rs 1,575 crore, it is currently constructing the Surat Diamond Bourse near Khajod.
See also:
PSP Projects gains on emerging as L1 bidder for govt project
Govt nods six town planning schemes in three Gujarat cities


Related Stories