Pune flyover construction faces hurdle as metro pillar maps delayed
01 May 2023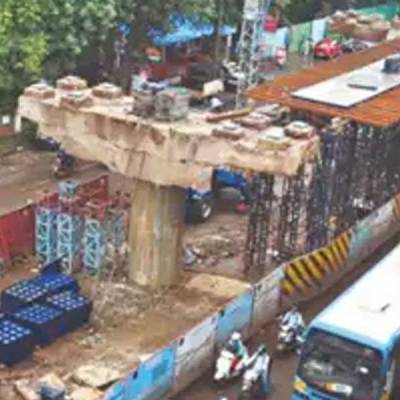 The Pune Municipal Corporation (PMC) is facing a potential obstacle in the construction of the flyover on Sinhagad Road. The flyover ramps are situated at six designated locations where pillars for the metro station need to be erected. However, the progress has come to a standstill as the necessary maps for the construction have not been received by the corporation.
The PMC has been diligently following up on the erection of the pillars and has engaged in discussions with Mahametro, the organisation responsible for the metro project. Joint site inspections involving officials from both entities have been assured by Mahametro, and they have promised to promptly provide the required maps.
The purpose of constructing the flyover on Sinhagad Road is to alleviate traffic congestion. The project stretches from Rajaram Bridge to Funtime Theatre and is expected to be completed by 2025. At the same time, Mahametro has proposed a metro project connecting Khadakwasla to Hadapsar-Kharadi, with the Detailed Project Plan (DPR) already submitted to the Municipal Corporation for approval from the Standing Committee. Concurrently, progress is underway for the construction of the flyover.
The flyover comprises three ramps in the Rajaram Bridge area and three ramps near Funtime Theatre, Manikbaug, and Vitthalwadi. The metro station pillars are planned to be erected at the termination points of these ramps. Recognizing the potential hindrance the flyover ramps could pose to future metro work, ongoing discussions have taken place between the Municipal Corporation and Mahametro over the past few months regarding the construction of the metro pillars. An online meeting was held to address the matter, but significant progress has yet to be made.
To expedite the process, officials from the municipality and Mahametro conducted a site inspection on Wednesday, May 17. Following the inspection, Mahametro will prepare the necessary maps and plans for the pillars. In the meantime, the Municipal Corporation continues to make progress on the construction of the flyover pillars. Municipal officials are optimistic that once Mahametro provides the maps, the work can proceed smoothly.
The project involves constructing 31 pillars at an estimated cost of Rs 110 million. According to Mahametro, the municipality will erect the metro station pillars at the designated locations during the flyover construction. The recent site inspection has paved the way for timely provision of maps to the municipality.
Also Read
India Makes History: 100 km road constructed in 100 hours
NHAI issues tender for NH 56 expansion in Gujrat


Related Stories