Punjab DGP inaugurates solar power plants at 13 police stations
01 May 2023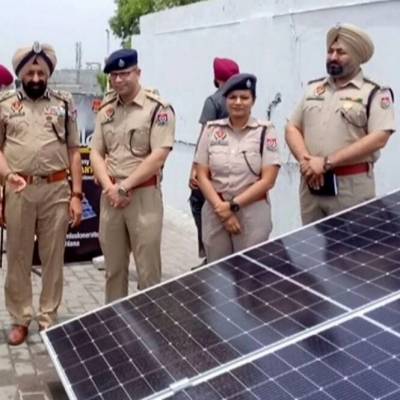 Punjab DGP Gaurav Yadav inaugurated the rooftop solar power plants installed at 13 police stations in Ludhiana as part of a sustainable initiative. The police stations covered under this project include Jamalpur, Moti Nagar, PAU, Division No 1, 2, 5, 6 & 8, Dugri, Sahnewal, Shimlapuri, Sadar, and Model Town. These solar plants, with a total capacity of 120 kW, were installed as part of the Corporate Social Responsibility efforts under the 'Ujaala-Ek Changi Shuruwat' project.
Yadav highlighted the environmental benefits of these solar power plants, emphasizing that they would contribute to an annual reduction of 180 metric tonnes of carbon emissions. Additionally, the installations would result in significant cost savings, amounting to Rs 1.2 million per year, by reducing hefty electricity bills. The 120 kW solar power plants are equivalent to planting approximately 5500 teak trees, he added.
The DGP also mentioned that these solar plants were established under the Net Metering Policy of the Punjab State Power Corporation Limited (PSPCL). This policy allows eligible consumers to install rooftop solar photovoltaic systems and offset their electricity consumption by generating power from the solar panels. Through net metering, consumers are billed for the net amount of electricity consumed, considering the difference between the electricity generated by the solar panels and the electricity consumed from the grid.
Yadav expressed optimism that the installation of solar power plants would transform the police stations into 'Green Police Stations' and inspire others to adopt renewable energy sources for a cleaner and greener Punjab. He urged the Ludhiana police commissioner to extend this project to cover all police stations in the city.
Related Stories