Revolutionising Construction: Simpliforge's 360o 3D Printing Solutions
01 May 2023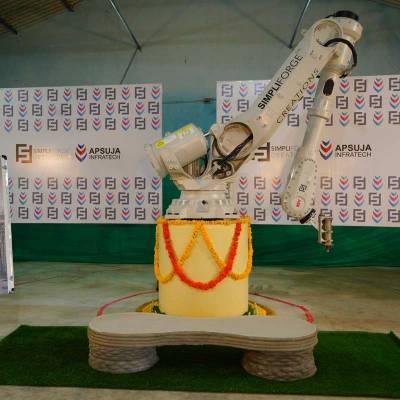 In recent years, there has been significant adoption of technology in the construction industry, transforming traditional practices into more efficient, productive and safer ways of working. From building information modelling (BIM) to drones and robotics, technology is playing a vital role in revolutionising the industry. The benefits of technology in construction are numerous, including reducing errors and rework, improving communication and collaboration, enhancing safety and speeding up project delivery times.
One startup has leapt ahead and taken on the multi-dimensional 3D printing field by storm. Simpliforge provides 3D scanning, design, reverse engineering, manufacturing, and more. Amit Ghule, Founder and COO, shares more about the company in a virtual conversation.
Ghule's fascination with 3D printing started in 2015 when construction 3D printing had just begun in China. While Ghule was doing his master's in Boston, co-founder Dhruv Gandhi took the leap and bought 3D printers. "While I was testing the waters, Dhruv pushed me into it and we started off," elaboratesGhule. "The time difference was an advantage; he would do all the business development in India and I would design through the night. We were able to offer 24/7 availability right off the bat and that got us some good clients."
Initially, the company explored 3D printing with fused deposition modelling and stereolithography (resin-based printing). The first year of Simpliforge was spent researching different applications. "We experimented with prototyping, dye design, game design, jewellery design, set design, reverse engineering, 3D scanning, and more," reveals Ghule. "At the time, we didn't have the resources for 3D concrete printing."
The Simpliforge team comprises IIT alumni from various backgrounds such as ocean engineering, naval architecture, mechanical engineering, IT, and more. Along with this, the company also has a team that has worked in senior management roles in EPC companies.
Simpliforge is positioned as a holistic additive manufacturing solution with turnkey offerings for 3D printing. Prototyping is one of the oldest services offered with applications in medical devices, product development, architectural designs, and more...
To read the full story, CLICK HERE.
Related Stories