Rs 480 mn national highway projects inaugurated in Vadodara
01 Jun 2023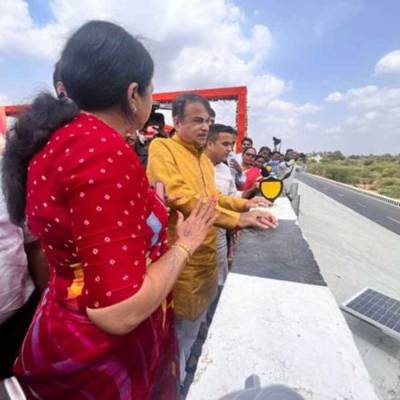 Union Minister for Road Transport and Highways, Nitin Gadkari, inaugurated two National Highway projects in Vadodara, Gujarat. These projects, with a combined cost of Rs 480 million, were initiated through the Bhumi Pujan ceremony held a year and a half ago on the birthday of Prime Minister Narendra Modi.
The first project, located near Dumad Chowkdi on the Ahmedabad-Vadodara section of National Highway 48, spans approximately 3 km. Gadkari stated that the project, completed at a cost of Rs 270 million, includes the construction of new service roads, vehicular underpasses, and RCC crash barriers. These additions will alleviate traffic congestion and enhance the safety of the journey.
The second project, costing Rs 170 million, spans around 1 km and is situated near the Dena Junction of Vadodara on National Highway 48. Gadkari highlighted that solar-powered street lights have been installed for the first time on this highway, contributing to sustainable infrastructure. Additionally, the underpass and service road have been constructed using Polymer Modified Bitumen, providing greater durability and resistance to cracks.
Gadkari also emphasised the inclusion of a three-lane service road, a first in this construction. These projects will enhance connectivity to Dena, Harini, and Virod villages, improving safety in this accident-prone area and facilitating smoother traffic flow from industrial zones. The inauguration of these National Highway projects reflects the government's commitment to infrastructure development, road safety, and enhanced connectivity in the region. The initiatives will benefit both the local communities and industrial sectors, promoting economic growth and ensuring safer transportation.
Related Stories