Schwing Stetter launches XCMG excavator and wheel loader range
01 Sep 2022
Long Read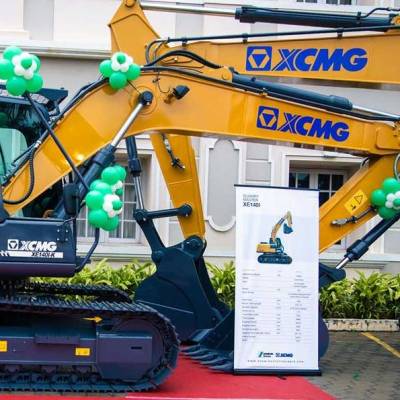 Schwing Stetter India, one of the country's leading concreting equipment manufacturers, has launched XCMG's two new hydraulic excavators and wheel loaders in the XCMG Coimbatore dealership office. There has been a consistent demand for hydraulic excavators and wheel loaders in India, owing to a general increase in projects. Understanding the requirement for the machines, XCMG, the third largest construction machinery company in the world, has brought out four machines with unique specialities.
By launching the machines here, Schwing Stetter India is strengthening ties with its Coimbatore dealership, which has always been an important marketing owing to the city's focus in quarry machines. The machines have undergone several extensive trials to meet the industry requirements of smart, efficient products. The hydraulic excavators launched are as follows:
XE215i-K LC – 25T hydraulic excavator
XE140i-K HD – 14T hydraulic excavator
The significant features of the hydraulic excavator range are as follows: The HEX XE215i-K LC, one of the best-in-class excavators, comes equipped with nine rollers. The machine also has a longer track for best grip. We are one of the few players in market to offer nine rollers in this segment. The HEX XE140i-K HD is a new generation 14T machine specially made for quarry usage. It is heavier and faster than the previous generation 14T machine.
The wheel loaders launched are as follows:

ZL33FV – 3.3T wheel loader
ZL55GV – 5.5T wheel loader
The significant features of the hydraulic excavator range are as follows:

The ZL33FV is a modern age 3.3T BS4 wheel loader. This is an efficient, powerful machine with heavier payload than the previous generation 3T wheel loader.
The ZL55GV is the latest CEV Stage 4 wheel loader. This is far bigger in size. It has a powerful performance with enhanced payload capacity. This is also specially made for quarry and mining applications.
Speaking about the success of the launch, VG Sakthikumar, Managing Director of Schwing Stetter India, said, "We are happy to be launching the excavators here at XCMG Coimbatore through the dealership office. We, at Schwing Stetter India, are delighted to be launching our products here, because Coimbatore as a market has been important for us since inception. By taking more collaborative efforts with our dealers, we hope to further amplify our product launches across the country."
The company is actively building strategies to build market presence as it gears up for increased business opportunities that the current quarry space holds. With the new launch, Schwing Stetter India plans to increase its share of the XCMG hydraulic excavator and wheel loader market in India and extend its reach to markets in India.
Also read:
XCMG launches 7th edition of apprentice programme
Schwing Stetter India launches the nxtGen self loading mixer


Related Stories