Students in Hyderabad school promote waste management
01 Sep 2023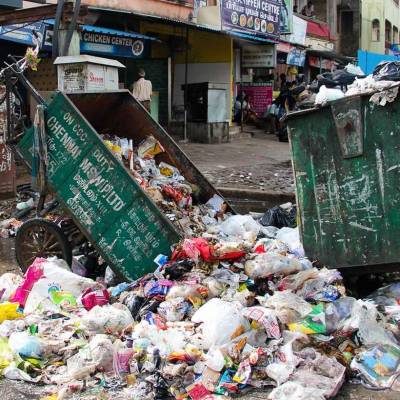 Students from Sreenidhi International School in Hyderabad have come together to create 'Civitas,' an initiative aimed at raising awareness about waste management. In collaboration with the Greater Hyderabad Municipal Corporation (GHMC), these high schoolers recently introduced an e-waste bin in Madhapur. The project's goal is to responsibly collect and dispose of electronic waste, safeguarding the environment from the hazardous materials commonly found in electronic devices.
Civitas was founded in October 2020 by Rithvik Jampana, Sideesh Reddy, and Vansh Lohia, eleventh-grade students at Sreenidhi International School. The group actively gathers disposable waste from various communities and coordinates its disposal through partnerships with local recyclers. Additionally, a team of 25 volunteers conducts seminars and offers tips to promote awareness and enhance garbage management practices in different neighbourhoods.
Rithvik, one of the co-founders, emphasised the importance of environmental sustainability and social responsibility. The initiative's primary objective is to educate residents about waste management practices, which pose significant challenges to the environment.
Initially, Civitas began with e-waste collection drives in designated residential areas and corporate offices. Through research, they acquired knowledge about disposal and recycling methods, enabling them to implement these practices and educate local residents.
Their efforts cover a wide range of waste materials, including e-waste, metal waste, industrial lag, and more, totalling around 300,000 kilograms of waste sent for recycling. They have also placed bins in nearly 15 residential neighbourhoods and communities, providing residents with a convenient way to dispose of e-waste and fabric waste.
Rithvik pointed out a sobering fact: the average lifespan of trash pickers in India is only 38 years, highlighting the perilous conditions they face. Despite their vital role in maintaining cleanliness, their contributions often go unnoticed. To address this, Civitas established a waste processing plant in Yenkapally village, recycling over 1000 kgs of wet and dry waste daily and distributing essential health kits to Hyderabad's ragpickers. These initiatives not only create cleaner communities but also improve the livelihoods of marginalised individuals.
Future plans for Civitas include setting up five more public e-waste bins in various city localities and offering affordable healthcare (Aarogyasri) to ragpickers, which is now their primary objective.
Related Stories