Sustainability, decarbonisation are a big focus area for this company
01 Feb 2023
Long Read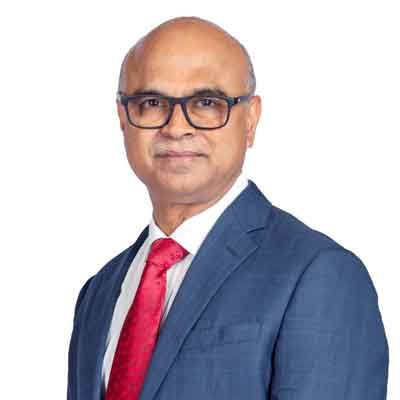 The name Tata Projects has become synonymous with India's development across a plethora of sectors. In an event held in the nation's capital recently, Vinayak Pai, Managing Director, Tata Projects, spoke to CW about the company's key focus areas and its ability to navigate the current geopolitical climate.
What similarities or differences do you see when it comes to project execution in India and abroad?
To be honest, project execution everywhere, by and large, follows the same principles. However globally, the front-end definition of a project is much stronger. A lot of time is spent on devising the initial plan and concept before project execution begins. In India, this stage, in particular, is not so robust. Later on, this leaves room for changes, owing to which timely project delivery takes a hit. Hence, precision is desired in planning and finalising the front-end design and definition of the project so that the project execution plan is not riddled with constant changes.
How will the National Infrastructure Pipeline (NIP) from projects and the production-linked incentive (PLI) scheme enhance India's infrastructure growth?
We believe the PLI scheme has given a lot of emphasis to sustainability-related investments apart from aiding the manufacturing sector pan India. As far as the infrastructure sector is concerned, a good deal of investment is pouring into the infra domain, both at the Centre and state levels. A lot of emphasis is being laid on growth of infrastructure with the requisite budget allocation; much of this has to do with the urbanisation of the Indian economy. The development of Tier I and Tier II cities has augmented the demand for better connectivity and people are keen to have a better lifestyle as well.
When it comes to the revenue mix, what part comes from Indian and overseas projects? What sort of international projects are on your radar?
Right now, our international projects are limited. We do transmission line projects in Bangladesh, Africa and some other parts of Asia like Thailand, etc. We are executing some projects through our oil, gas and hydrocarbon arm in the Middle East. Ten per cent of our revenue comes from international projects; the rest of it, which is the major part, is India-driven.
Going forward, what sort of projects will be a priority, keeping in mind the company's short-term and long-term revenue goals?
Any project with a strong technology component is of interest to us. For example, in the Mumbai Trans Harbour Sealink, the first, longest orthotropic steel deck (OSD) was used, which is quite unique. Such opportunities denote our ability to deal with complex projects. Likewise, sustainability and decarbonisation are a huge focus area for us. So, projects that centre on green hydrogen, green ammonia and those catering to power storage and converting waste to energy will be our key focus areas.
Given the geopolitical situation, do you feel the Middle East offers better prospects than Europe?
The geopolitical and climate-related changes that are happening are all real. A year ago, we dealt with COVID-19, which was a major disruptor. I believe businesses have to learn to operate against the backdrop of these uneasy developments that can come from anywhere. At Tatas, it has always been our endeavour to build a resilient business with a strong base load. Our ability to execute projects with lesser resources and innovative technologies, ensuring timely deliveries, keeps us steady in such uncertain times. Thanks to the oil prices, the Middle East at this point in time is better off but investors don't make decisions based on the trajectory for the next few months. It's a long-term affair. So, as a company we will continue to focus on all geographies.
Tata Projects is involved in construction of Jewar International Airport, the fourth largest airport in the world. Can you tell us something about this ongoing project?
We have an aggressive schedule of 30 months for this iconic project; it will change the mobility dynamics of NCR. Sustainable methodologies, digital solutions and remote monitoring are being used to speed up construction. We want it to be a benchmark of success in predictable project delivery. We are happy to add that all stakeholders involved in the project, including the Uttar Pradesh government, have offered us tremendous support. Hence, I can confidently say that we will be able to manage the expectations of this project with ease.
What measures has Tata Projects taken towards clean energy solutions?
We are focused on projects that centre on decarbonisation and sustainability. All these projects are highly technology-driven; hence, we are developing technology partnerships and acquiring the skills required to bring them to fruition. We are working with the Indian Institute of Petroleum to reduce the carbon footprint of our construction sites. We are trying to understand how to use biodiesel at some of our sites; likewise, we are increasingly trying to use renewable power at our sites. All this augments our idea that business in the long run needs to be sustainable and help make the planet more sustainable.
Five marquee projects of Tata Projects 
New Parliament Building

Delhi

The New Parliament building will comprise an area of 64,500 square metres to accommodate any future increase in the number of members for the two houses of Parliament. It is being built as a triangular shaped structure which will have modern amenities such as grand constitution hall, lounge for MPs, multiple committee rooms, library, dining areas and ample parking space.

Mumbai Trans Harbour Link

Mumbai

Tata Projects is constructing the challenging Package 2 of Mumbai Trans Harbour Link which will connect mainland Mumbai with the eastern suburbs. The package 2 is the most challenging portion of MTHL since the alignment is over the sea. Once completed, the MTHL project will transform the transportation scenario in the Mumbai Metropolitan region and will become the longest sea bridge in the nation.

 

DFCC

Multiple Locations

Tata Projects is building multiple sections of Eastern & Western Dedicated Freight Corridors which will enable Indian Railways to run faster trains.

 . For example, the 351 km New Bhaupur – New Khurja section of EDFC is situated in Uttar Pradesh. The section has opened new vistas of opportunity for local industries and also decongested the existing Kanpur-Delhi main line thereby enabling Indian Railways to run faster trains.

National Maritime Museum

Lothal region, Gujarat

The NMHC will be dedicated to the maritime heritage of India and shall showcase the nation's rich and diverse maritime glory. It includes museum building, artificial water body & jetty, prototype of ancient Lothal town and its rich heritage, museum galleries to establish a timeline of the known facts about India's maritime history and parking facilities.

Ginger Hotel

Mumbai

The construction of the new Ginger hotel at Santacruz, Mumbai is being executed by an all-woman engineering team from TATA Projects. The 371-room Ginger hotel with a built-up area of over 19,000 sqm will incorporate the latest construction techniques and technologies.
Related Stories