Tailormade land acquisition strategy for Mumbai Metro 3
01 Sep 2022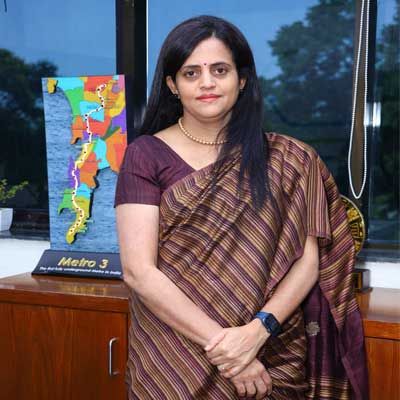 Mumbai Metro's Line 3, which will be a 33.5-km underground route, will connect south Mumbai with the western suburbs. Recently, Maharashtra Chief Minister Eknath Shinde and Deputy Chief Minister Devendra Fadnavis flagged off the trial run for this line.
However, this line has faced its own set of challenges – from acquiring land and constructing an underground line within city limits to ensuring efficient project management and more. Ashwini Bhide, Managing Director, Mumbai Metro Rail Corporation (MMRC), explains how these issues were tackled in conversation with PRATAP PADODE, Editor-in-Chief, CW.
Tell us about the metro plan for Mumbai Metro 3.
The Colaba-Bandra-SEEPZ Metro-3 corridor is unique – not only because it is underground but also in the fact that the corridor traverses 33.5-km covering all the areas that are today unconnected by railway transport, which has no provision to take additional load today. The project also travels under the heritage area. It is modern, air-conditioned, backed by latest technology, sleek, comfortable, faster and safer.
Once commissioned, it will carry 1.7 million commuters per day of which 15-20 per cent will shift from the suburban railways and the rest will shift from the road network leading to the decongestion of the roads.
This corridor will also provide connectivity to other modes of public transport such as Western and Central Railways, both the airports, Metro Lines 1, 2 and 6 – cutting across most existing and upcoming routes. The corridor has a station at Worli and Acharya Atre Chowk too which will offer more connectivity once the Worli-Sewri Connector is completed.
The station depths vary from 22 m to 30 m and at a few stations like the Airport and MIDC, the depth is 30m because of the gradient. The depth at the Airport stations is deliberately kept at 30 m to enable the Mumbai International Airport (MIAL) to commercially develop the land above these stations.
To read the full interaction, CLICK HERE.
Related Stories