Tata's Air India-Vistara merger seeks creditor approval
01 Sep 2023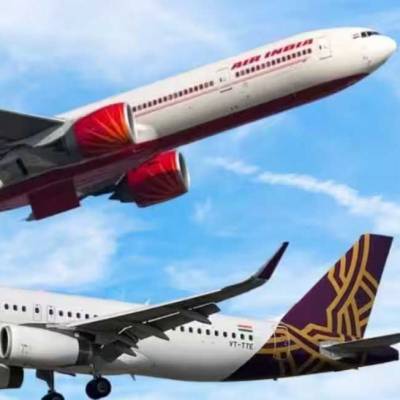 Tata-owned Air India and Vistara have initiated the process of seeking approval from their creditors for their impending merger. According to a notice, the creditors are scheduled to vote on this proposal on September 23.
It's worth noting that the merger plan has already received the green light from the National Company Law Tribunal and the Competition Commission of India. Following creditor approval, the next steps involve seeking permission from the Registrar of Companies and the aviation regulator, Directorate General of Civil Aviation, as per individuals familiar with the matter.
This merger aims to consolidate the Tata Group's aviation ventures. Under this restructuring, Air India and Vistara will amalgamate to create a unified full-service airline, while Air India Express and AirAsia India will form a subsidiary focused on low-cost operations under the Air India umbrella. Singapore Airlines (SIA), which holds a 49% stake in Vistara, will retain a 25.1% share in the merged entity.
As per the proposal, Air India will issue 3,702,338,129 fully paid-up equity shares to SIA at a face value of Rs 4 each, priced at Rs 5.56 per share. In total, SIA's investment in Air India will amount to $267 million.
According to the notice, approvals will be sought from both secured and unsecured creditors. Secured creditors primarily consist of banks, whereas unsecured creditors encompass vendors and lessors.
The Tatas are keen to conclude the merger by March 2024 to unlock synergies, as stated by executives. Vistara has initiated aptitude tests for its staff and launched a culture survey to identify individuals suitable for key roles within the merged entity. This process includes the Hogan Test, designed by a US-based firm, to assess the normal personality characteristics necessary for job fit, particularly in leadership roles.
Additionally, unified salary structure and seniority lists have been established for pilots across all Tata Group airlines.
For SIA, which partnered with Tata in 2014 to establish Vistara, the merger represents a significant opportunity in the Indian market, currently ranked as the world's third-largest. Through the merged entity, SIA gains a foothold in both the low-cost and full-service segments, aligning with its multi-hub strategy.
This merger positions SIA to tap into a market substantially larger than its home market, potentially ensuring its long-term viability. Importantly, after accounting for the capital injection, the total investment will not exceed 20% of the SIA Group's market capitalisation.
Related Stories