The Delhi-Mumbai Expressway is set to reduce your travel time
01 Feb 2023
Long Read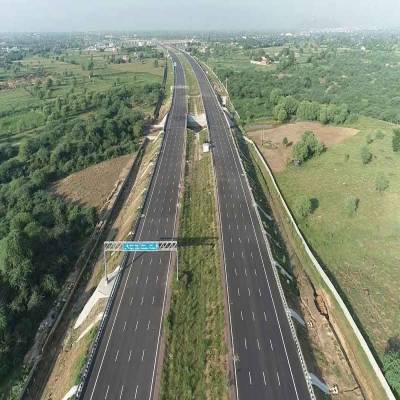 The Honourable Prime Minister's New India initiative Delhi- Mumbai expressway was launched in 2018 and maintained by NHAI (National Highways Authority of India).
The 8-lane Greenfield Expressway is the longest highway in India and has been officially inaugurated. This mammoth 1350 km expressway has been built at a whopping cost of Rs. 1 Lakh Crore. More than 80 lakh tons of cement have been used with skilled engineers and more than 50 lakh personnel for construction.
The expressway passes by Delhi NCR(12km), Haryana(129 km), Rajasthan(373 km), Gujarat(429 km), and Maharashtra(171 km). It originates from Gurugram and ends at Jawaharlal Nehru port near Mumbai. The projected Noida International airport will be connected to the Delhi-Mumbai Expressway at Jewar. Ratlam, Jhabual, Mandsaur, and other towns are among the areas the highway will pass through while it travels along its 250 km route in Gujarat, a distance of 426 kilometers, a total of 60 bridges, 17 flyovers, 17 interchanges, and 8 roadways over bridges will be built.
Additionally, the expressway will enhance connectivity to economic hubs like Udaipur, Jaipur, Kishangarh, Chittorgarh, Ajmer, Kota, Ujjain, Indore, Bhopal, Ahmedabad, Vadodara, and Surat.
The expressway will eventually reduce the 24 hours of travelling to 12 hours. It was constructed with a speed limit of 120km/hr i.e., it will save more than 32 billion liters of fuel annually, which is the same as planting four billion trees.
The 8 lanes can be increased to 12 lanes. These extra lanes will be reserved for tree plantation and amenities. Other roadside services such as ATMs, stores, food courts, hotels, EV charging stations and gas pumps, etc.
The Delhi-Mumbai Expressway was built with crucial consideration for wildlife and the environment in mind. The expressway is only the second in the world and first in Asia to have animal overpasses and underpasses to allow for the unfettered passage of animals.
Three underpasses and five overpasses, totaling seven kilometres in length and devoted to allowing free movement of wildlife, will be installed on the expressway. The Delhi-Mumbai expressway will also have recognisable two iconic eight-lane tunnels, that will pass through the Mukundra Sanctuary and Matheran eco-sensitive zone without endangering wildlife.
A cutting-edge traffic management system will be another unique feature of the expressway. For the construction of utility lines, such as fibre optic cables, pipelines, and solar power generation, a three-metre wide corridor will be set aside. Additionally, it will feature approximately 2000 water recharge stations and capabilities for rainwater collection at 500-metre intervals.
Haryana's Sohna may develop into a new real estate hotspot. Also, a 30 to 40% increase in land prices is anticipated in the Jawaharlal Nehru Port Trust (JNPT) region.
As a result, the initiative will aid in drawing more investors to the area. Around the Dwarka Expressway and the Delhi-Alwar Expressway, numerous sectors are being built (NH-248A). Moreover, according to statistics provided by the Department of Town and Country Planning (DTCP), there are six to seven commercial projects, 15 Deen Dayal Awas Yojana projects, 19 group housing projects in Sohna, and 10 affordable group housing projects. The Delhi-Mumbai expressway project will help in attracting more investors. The Expressway is predicted to significantly expand the real estate industry. This is due to the expressway's contribution to the growth of numerous townships, housing developments, commercial sites, and much more. One of the largest highway construction projects in India is the Delhi–Mumbai Expressway. The initiative will promote planned investments in townships, business parks, logistics parks, and other areas.
The packages and contract details for Delhi Mumbai Expressway have 4 distinct sections with a total of 52 civil tenders/packages.
GR Infra projects = 224 km
HG Infra Engineering = 116 km
Roadway Solutions India Infra = 87 km
DRA Infracon = 84 km
GHV (India) = 80 km
KCC Buildcon= 67 km
JCEC- MKC Infra JV= 62 km
Dhaya Maju Infra- Crescent EPC = 57 km
APCO Infratech = 47 km
PNC Infratech =42 km
Larsen & Tourbo (L&T) = 37 km
Centrodorstroy India = 32 km
IRCON Vadodara Kim Expressway = 32 km
Gawar Constructions = 31 km
Patel Vadodara Kim Expressway = 31 km
Atlas construction- NKC JV = 30 km
CDS Infra projects = 29 km
IRB Infrastructure Developers = 28 km
IRCON International = 27 km
Shivalaya Construction Co. = 27km
Montecarlo = 26 km
RKC Infrabuilt = 26 km
Sadbhav Kim Expressway = 25 km
VK1 Expressway = 24 km
Agroh Infrastructure Developers = 23km
Patel Infrastructure = 22 km
Ashoka Ankleshwar Manubar Expressway = 13 km
Dilip Buildcon (DBL) = 8 km

Related Stories