The Evolution of design under AI
01 Mar 2023
Long Read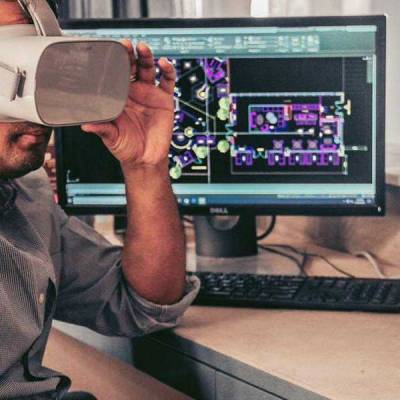 The industrial revolution led to the transformation of an agrarian economy that gave way to an industrial economy. As a result of the industrial revolution, products were no longer exclusively manufactured by hand but also by machines. This resulted in an uptick in output and efficiency, as well as decreased prices, a growth in goods and services, higher earnings, and a migration of people from rural to urban regions. Artificial intelligence (AI), which happens to be the fourth industrial revolution, will be accompanied by changes across different sectors including architecture and design.
"The growing impact of computational design is one of the most critical pieces of evidence that AI has changed the architectural design industry," observes Gagandeep Kapila, Founder & Principal Architect, Workshop for Metropolitan Architecture. "Computational designs use algorithms to generate, evaluate and analyse architectural designs, opening up new possibilities for designers to create complex and intricate designs that would have been impossible using conventional design methods. Planners and designers, for instance, use AI algorithms to develop plans based on datasets that maximise natural light, reducing energy consumption, hence improving the efficiency of buildings."
With the ever-increasing penetration of AI across different sectors, professionals are also wary of its potential to replace human minds at work. However, AbhigyanNeogi, Founder & Principal Architect, Chromed Design Studio, believes it is all set to simplify the process of custom-designed solutions and optimise the process of construction itself. "When it comes to the design process, AI-powered 3D modelling tools can help create virtual environments that allow for experimentation with different design concepts and layouts. By using AI to test different design elements in a virtual environment, one can identify potential issues before construction begins, saving time and money. This would even help with the visualisation when connected with virtual reality (VR) systems and the client can get a 360° experience of the space before it breaks ground for construction."
In design, likewise, AI can make the process of personalisation very efficient; it can analyse user data to create personalised designs that are tailored to each individual user. This in turn will allow designers to create more engaging and personalised experiences for users. Apart from custom-designed solutions, AI can make way for mass customisation via generative design. Generative design is a process where AI algorithms create multiple design options based on predefined parameters and the best ones can then be mass produced. "AI technologies such as generative design and evolutionary algorithms can radically change the way architects approach the design process, allowing them to explore and experiment with an infinite number of design possibilities that would be impossible using traditional methods,"says Kapila.
At the user level, the impact of AI on design has created avenues for manufacturers of smart products to come to the fore. "Technology is revolutionising the design industry at the user level through the emergence of smart home technology," Aashita Chadha, Co-Founder, The KariGhars."The easy application of this technology has allowed designers to create spaces that seamlessly integrate with the latest technological advancements, including voice-activated devices, automated lighting systems and smart appliances. This level of integration provides clients with greater control and customisation of their living space, making it more convenient for them to personalise their homes according to their unique needs and preferences."
The impact of AI on design has ensured designers can cater effectively not only to individual tastes but spaces that cater to a wide diversity. For instance, Neogishares, "Lighting is crucial to gastronomical spaces, be it pubs, bars or even restaurants and cafes. It not only sets the mood of the space but also determines the energy encapsulated in the built environment. AI can help optimise lighting design to create a welcoming and comfortable atmosphere for customers. It can identify the most effective lighting schemes to maximise the customer experience by analysing customer behaviour and preferences. Moreover, smart lighting fixtures that work based on the time of the day and can be controlled from our fingertips, regardless of location, are a smart move in the industry. In some of our projects, such as Diona in Jaipur, TKYO in Goa and M-bar in Kolkata, we have also used DMX lighting, which syncs with the music being played in the background."
Meanwhile, Kapila says, "One of the most significant examples of the influence of AI on the process of design is the development of building information modelling (BIM). BIM is a digital representation of a building's characteristics that helps in virtual planning, designing and construction. AI algorithms critically analyse BIM data to predict the performance of building systems, identify potential design flaws and optimise building layouts to meet specific design requirements. Another example of AI's impact on the architecture and design industry is in the area of robotic construction. Robotics has been around in building construction for many years, but the integration of AI technologies has significantly improved the accuracy and efficiency of construction processes in recent times. The technology optimises construction schedules, identifies potential issues and aids in efficient construction processes, reducing the risk of construction errors and improving the quality of building construction."
The impact of AI on design also brings into play the introduction of 'metaverse' in its dominion. The metaverse is a developing virtual environment that gives designers a new platform to present their work and provide users immersive experiences. To enable visitors to explore and participate with their designs, interior and product designers can utilise the metaverse to build virtual showrooms, product displays and other interactive experiences.
"The metaverse is a rapidly growing virtual space that is becoming more and more important in our daily lives," explains Ritika Kothari, Architect and Founder,Colab Cloud."With the rise of VR, augmented reality [AR] and other immersive technologies, the metaverse is becoming a significant platform for social interaction, entertainment and even commerce. As an architect or designer, we have the opportunity to play a key role in shaping the future of the metaverse through our spatial design skills.
The metaverse will require spaces that are not only functional and aesthetically pleasing but also optimised for VR and AR experiences. Creating spaces that are optimised for human interaction and engagement and taking into account factors such as user flow, accessibility, and emotional impact and working with cross-disciplinary teams, including developers, artists, and engineers, to create immersive spaces that meet technical, aesthetic and functional requirements will be the new future.Keeping up to date with the latest developments in VR and AR technology and understanding unique features and requirements such as immersion, interactivity and navigation will be the key elements."
Summarising the impact of metaverse on design, Kothari says, "As an architect, I always felt restricted by the limitations of the real world.That barrier no longer exists in the metaverse – all those curves and parametric designs can come to life in less than a few months! The metaverse needs more designers who are willing to colour outside the lines."
In conclusion, the field of design has already been significantly impacted by AI and this trend is most likely to continue. By enabling architects and designers to evaluate massive quantities of data, simulate complex scenarios and produce original and creative ideas, AI has the potential to completely transform the way they design solutions and products. AI is expected to keep revolutionising the world of design but it also poses moral and societal issues such as the possibility of prejudice and the displacement of human designers. It will be crucial to make sure that the advantages of AI are weighed against any possible concerns and that human designers continue to be at the forefront of the design process as it develops and becomes more sophisticated. In the end, how AI is developed and integrated into the design process and how designers adjust to its powers and limitations will determine how AI will affect design.
Related Stories